Are you creative? Have you got busy fingers? Do you enjoy designing and making things?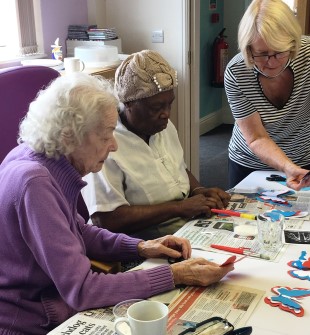 We are a friendly and supportive group who have lots of fun together creating exciting craft projects which often have a monthly theme. Projects are accessible to all, everyone has a sense of achievement and we always celebrate a shared success. Our work is displayed for all to see and enjoy in our activity room.
We regularly have enjoyable celebration events with tasty refreshments.
Day Care service users often come and join in the fun!
Where are we based?
36a Queens Road
Barnsley
S71 1AR
When do we meet?
Every Monday, 12:45pm - 2:45pm.
Weekly subscriptions are £3.00 plus £1.00 voluntary contribution toward the cost of craft materials.
Light refreshments are provided at no additional charge.
Contact us:
For more information please contact us:
Telephone: 01226 776820
Email: enquiries@ageukbarnsley.org.uk