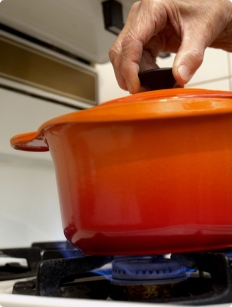 Our team of volunteers operate a lunch club at St Michael's Day Centre, St Michael's Place, Bath on Tuesdays each week. Diners arrive between 12pm - 12.15pm and lunch is served at 12.30pm.
A two-course lunch is served including a hot main course at a charge of £5. A cup of tea or coffee is also provided. People use the lunch club to meet their friends, have a chat or take a break whilst shopping in town. We cater for up to twenty people each day.
Menus vary and can include roast dinners, casseroles and fish as well as hot puddings.
Bookings must be made in advance. To book for a place for lunch, please contact the Day Centre Team Leader using the details below:
Monday, Wednesday, Thursday & Friday Tel: 01225 466135
Tuesday Tel: 01225 469400
Email: reception@ageukbanes.co.uk.