Every Spring/Summer we strive to provide Cold Boxes to older people to help over the warmer months. Many people in Bedfordshire struggle to keep warm, often sacrificing their personal well-being, going without the luxuries many of us take for granted.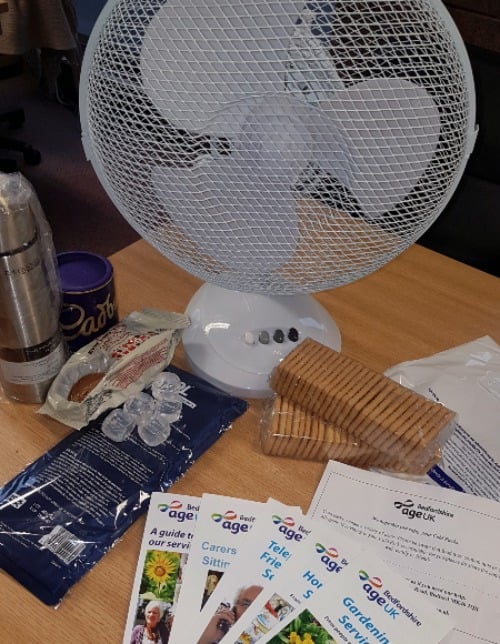 A Cold Box helps to relieve the pressure over the summer time and provides an older person with items such as an electric fan, re usable ice cubes, flask to keep drinks cool, gel packs to cool and then place on wrists and ankles, bottle of squash or juice to encourage drinking, cooling mist spray and more.
Our volunteers and staff then distribute the Cold Boxes far and wide across the county, ensuring that vulnerable, older people referred to us receive one.
Help make an older person's summer be cooler, both in real life and spirit by showing some kindness this year and sponsoring some cold boxes or donating some goods.
Any sponsorship will be acknowledged within the Cold Boxes provided so your kindness and generosity will be publicised to our clients.
Help us to help our older community and show that we care and all love later life.
If you would like to make a donation please make cheques or Postal Orders payable to 'Age UK Bedfordshire', and send to:
Karen Perry (CEO)
Age UK Bedfordshire
78-82 Bromham Road
Bedford
MK40 2QH
Thank you!