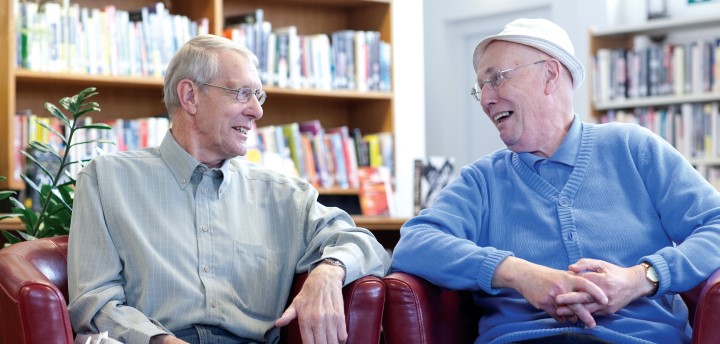 Age UK Berkshire offers a Befriending (home-visiting) service to people aged 50+ who are resident in the Reading Borough or West Berkshire geographical areas. The aim of the service is to enhance the quality of life of older people who live alone and have limited or no social contact, by offering companionship and support, usually by visiting them regularly at home.
The Befriending Coordinator will endeavour to match clients to volunteers by taking account of factors such as interests, location and availability.
Main Tasks
To visit client(s) on a regular basis at a time that is mutually convenient
To spend quality time during visits listening to and talking to clients, one-to-one
To spend time with clients during visits creatively which, if appropriate, might further enhance their quality of life e.g. by reading to them or playing cards, Scrabble, doing crafts, etc
Depending on the mobility/wellness of the client, it may be appropriate to accompany them on short trips outside the home, e.g. to the shops or garden centre
To report back to the coordinator about clients on a regular basis following each visit
To alert the coordinator to any concerns clients may have, or any concerns you may have about clients
To adhere to Age UK Berkshire's Information Governance policy
Tasks you are NOT expected to undertake:
Any personal care, e.g. feeding, dressing, assisting with the toilet, etc.
Shopping or housework (buying small items on behalf of the client may be allowed in accordance with money handling procedures)
Administering or advising on the use of any medications
Any heavy lifting
Any task you feel uncomfortable with
Experience
No previous experience is required, but a willingness to learn, and to participate in training, is important to enable you to best help our clients, and to help you get the most satisfaction from volunteering with this service.
Although not essential, you may find it can be an advantage if you have experience of dealing with, or caring for, older or disabled people either informally (e.g. contact with or care of older family members), or formally in employment.
Qualities
A desire to make a difference to the lives of older and/or disabled people is vital.
A kind, caring and friendly manner.
An ability to listen to, and have empathy with, clients.
Availability
You should be available to volunteer in this role for a minimum of 1 year, as it can be unsettling for clients if their befriender changes frequently.
Ideally, you should have at least 2 to 4 hours a month to spare on a regular basis, normally between the hours of 10am and 5pm. By prior agreement with the coordinator and subject to the wishes of the client, early evening and weekend visits may be possible. However, you will need to be available during the working week to attend an informal interview and to make an introductory visit to the befriending client with a member of staff.
We encourage attendance at any training sessions we organise or offer, and as a minimum would require you to complete training in safeguarding vulnerable adults and emergency first aid. There is no cost for this training but you would be expected to attend in your own time. Reasonable expenses incurred during the course of volunteering will be reimbursed.
We organise social events for our volunteers from time to time, and always hope that volunteers can find the time to join us for these enjoyable occasions.
Formal Requirements
We require a completed Application Form online or you can download the Volunteer Offer of Service form and return it to us by post.
We also require the names of two referees who have known you for a minimum of one year. They should not be family members, and one of these referees should have known you in a formal capacity e.g. employer or tutor.
If accepted as a volunteer, you will be required to satisfactorily pass a Disclosure and Barring Scheme check (formerly a CRB check). Your disclosure of any past or spent convictions may not preclude you from volunteering with Age UK Berkshire.
For more information see www.gov.uk/disclosure-barring-service-check.
Our Aim
We believe that visiting and helping our clients can be hugely rewarding, and want our volunteers to gain experience, and be proud of what they achieve while with us. To this end, we offer ongoing support, and hope volunteers will always feel free to contact one of our team to discuss any matter which will help them during their time with us.
Would you like to lend a hand?