Tai Chi and Tea with Friends Ageing Better
Published on 16 January 2020 11:43 AM
Friends Ageing Better (FAB), a project by Age UK Bristol, run in partnership with BOPF, has been offering Tai Chi and Tea to the over 50s in Bristol for over a year now.
In partnership with Tai Chi for Better Health, FAB trained 40, mostly older people, as Tai Chi instructors of a form of Tai Chi called Shibashi, which was specially developed for older people. Since then our instructors have run classes across Bristol in the most varied of venues, including parks, a Sikh Temple in St George and a Bingo Hall in Bedminster!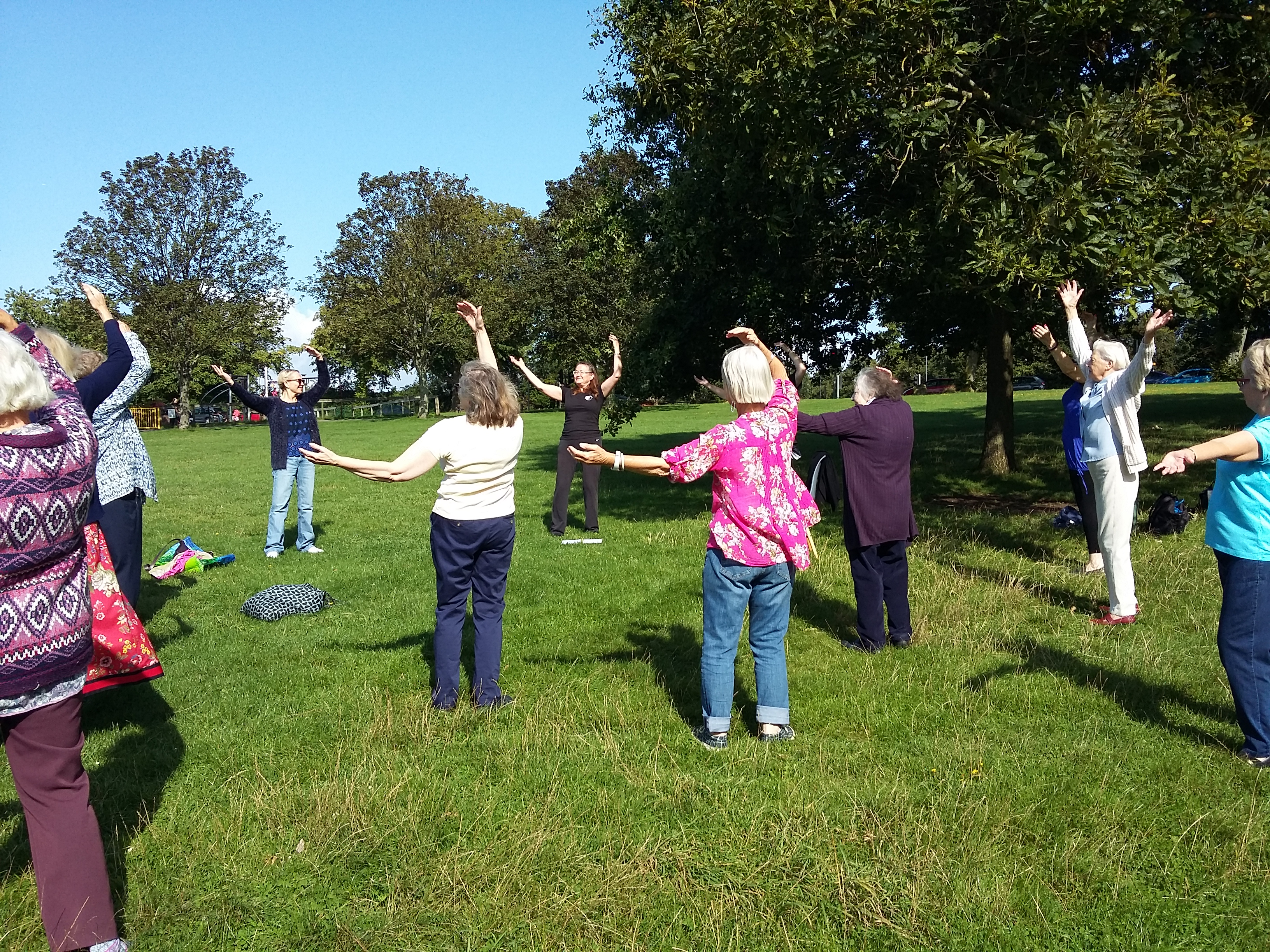 Tai Chi Shibashi can be done sitting or standing, which makes it very accessible, and its benefits have been well researched. It can improve balance and cognitive function as well as aid with pain management. Tai Chi is recommended by the NHS as helping to improve balance and coordination.
The health benefits are important, but Tai Chi is also a way of bringing people together.
Many of the FAB Tai Chi classes end with a cup of tea or coffee and a chat. People who have done Tai Chi with us say they felt comfortable to stay for tea or coffee although they may have come to the group on their own. To date our oldest participant has been in her nineties, and she found the class very fun and accessible.
'I love coming for the classes – it gets me moving and it's a lovely friendly group so I get to have a chat too'. Norma, Participant, Age 80.
Having older instructors helps. Rather than a fit, young instructor in lycra, we have instructors over 50, many in their 60s with different health issues. At our sessions age really isn't a barrier, everyone can improve their well-being with this form of Tai Chi.
Our Instructors also tell us how much they get from running classes:
'I love teaching Tai Chi, it makes me feel good and I know people are enjoying themselves because they keep coming back'. Mary Kroeber, Instructor.
So why not give it a go? Join us at one of our classes! Our classes are always affordable or even free!
Mondays (Fortnightly starting on the 13th Jan), 2pm – 3pm. The Cameron Centre, Gainsborough Sq, Lockleaze, BS7 9FB. £3 per class, first session free. Contact: June Kingsley 0117 440 4301 / mailto:juneprune1@hotmail.com.
Mondays and Tuesdays, 3pm – 4pm. The Elephant House, 1 Dean St, Bedminster, Bristol BS3 1BG. Small charges apply. Contact: Mel Vowles 0117 440 4301 / vowlesmel@gmail.com.
Tuesdays, 10am – 11am. Aardagh Centre on Horfield Common, off Kellaway Avenue, BS6 7YL. FREE. Contact: FAB 0117 440 4301 / fab@ageukbristol.org.uk.
Tuesdays (term time only), 2.30pm – 3.30pm. The Folk House, 40a Park St, Bristol BS1 5JG. £2 per class. Contact: Daren Sims 0117 440 4301 / fab@ageukbristol.org.uk.
We have more classes across Bristol, you can download our current schedule of sessions for January 2020. If you would like information about the closest one to you, call us on 0117 440 4301.