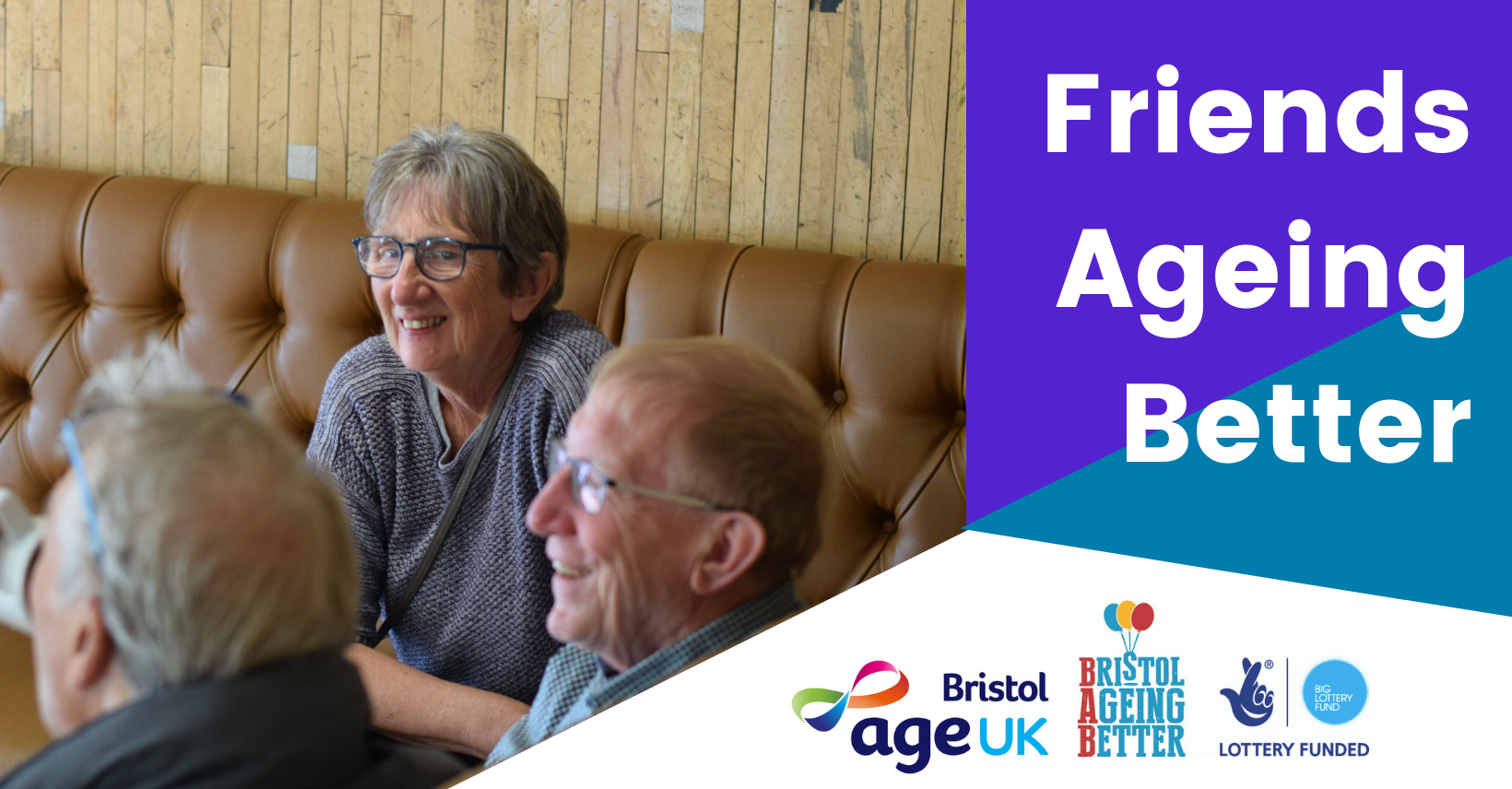 About Friends Ageing Better
Friends Ageing Better is a community where older people can share what is happening in the city while building relationships with like-minded people who live locally and benefit from discounts from local businesses and venues. Working with Bristol Ageing Better and its partners, Age UK Bristol is creating this network of older people building on from all the great things already happening across the city
FAB welcomes anyone who would like to improve their wellbeing as well as the wellbeing of older people in Bristol, whether it is a friend, a neighbour or a relative. FAB is open to people of all ages and interests, although it focuses primarily in activities suitable and of interest to 50+.
How do I take part in Friends Ageing Better?
We hold FAB Cafés across Bristol on a monthly basis. A FAB Café is an opportunity to share a cup of tea (and maybe a slice of cake!) and chat about what is going on in the local area in an informal and relaxed setting. Being part of FAB also provides access to special events and discounts across the city – for more information about this watch this space!
FAB volunteers will attend a FAB Café near them regularly, creating a welcoming space for everyone who joins and will share information regarding new events and activities happening near you, drawing from the wealth of information that BAB has created city-wide. Does this sound like something you would like to do? Get in touch!
If you are part of a group that is looking for new members, a FAB Café in your area is a great place to let local people know what you are doing.
When do FAB Cafés take place?
Once a month in different locations across Bristol, please see the list to find out when they are happening:
Horfield – 2nd Tuesday of every month at Boston Tea Party (

293 Gloucester Rd, Bristol BS7 8PE

). Next meeting: Tuesday 13th November from 10am until 12pm.
Whitehall/St George - Last Thursday of every month at The Beehive Centre (19a Stretford Rd, Bristol BS5 7AW). Next Meeting: Thursday 29th November from 10am until 12pm.
You can also visit the Age UK Bristol Activities and Events page to find out about the upcoming cafés.
Is Friends Ageing Better online?

YES! You can join our Facebook Group 'Friends Ageing Better – FAB Bristol' to find and share information about FAB Cafés, events and activities happening in Bristol. We encourage everyone to be part of this online community and make it an exciting space online where people can connect.
Alternatively, you can always come back to this page on Age UK Bristol's website to find out the latest news about FAB.
For more information about Friends Ageing Better, you can contact Clare Mitchell, FAB Development Officer (claremitchell@ageukbristol.org.uk) or Silvia Jimenez Cruz, FAB Communications Officer (silviajc@ageukbristol.org.uk) on 0117 929 7537. Please note, between us, we work Monday to Thursday.
For general enquiries, please email fab@ageukbristol.org.uk.
This project is funded by Bristol Ageing Better and delivered in partnership with Bristol Older People's Forum.