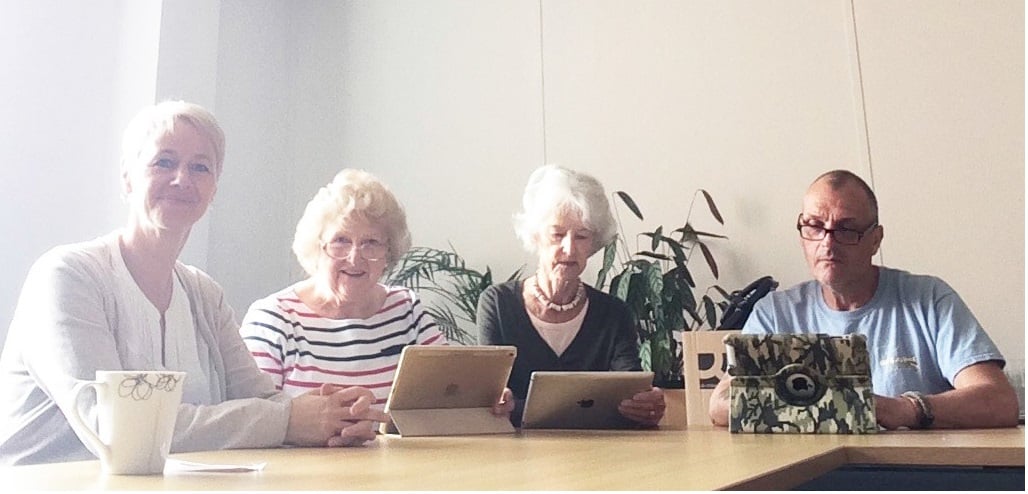 Coronavirus update
Following the advice of the Department of Health, Age UK Bristol has suspended all public drop-ins, face-to-face appointments, and courses. Please visit our coronavirus advice page for further updates on our services. We will continue to support our existing clients during this time.
Whether you are starting from scratch, coming for a refresh, or want to fill in the gaps - come and learn at a pace that suits you
Pat and Traci will be your guides on this low-tech, 2-hour Wednesday morning session, complete with refreshments and a warm welcome. There's no such thing as a stupid question - our iPad courses are for all ability levels!
The main objectives of the course:
to increase your confidence in using and exploring your device;
to help you feel more connected with today's technology;
to help you make your life more efficient;
to help you communicate in a variety of ways with those you care about.
Course Summary
message friends and family;
send and receive emails (including with attachments);
take, manage and organise photographs and videos;
locate places and people;
find information online;
set reminders;
set up special events and birthdays using the calendar;
set an alarm or timer, and check the time in different countries;
watch catch-up TV, play the radio, and download games;
configure the iPad interface to suit your needs;
take notes and create doodles;
create sound recordings;
download apps to do almost anything you could ever want!
Additionally, we always allocate time to answer questions that are specific to you and what you would like to learn. Our friendly volunteer trainers will go over everything in our course material as well as anything extra that you want to learn... all delivered with patience, a smile, and a cuppa!
When
Each course consists of a 2-hour session a week, for 6 weeks, on Wednesday mornings.
If you would like to book onto our next course get in touch today!
Who's it for
Our iPad courses are open to anyone over 55, of all abilities - whether you're a complete beginner, or would like to improve on existing skills!
Where
Our iPad Courses are held at our central Bristol office on Victoria Street:
Age UK Bristol
Canningford House
38 Victoria Street
Bristol
BS1 6BY
Book your place now
Call us on: 0117 929 7537
Email us at: admin@ageukbristol.org.uk
There is usually a waiting list for the courses but we will get you onto a course as soon as possible. If you have any questions about what we do please don't hesitate to call or email us using the details above.