Captain Tom 100 Challenge – Team Age UK BRWF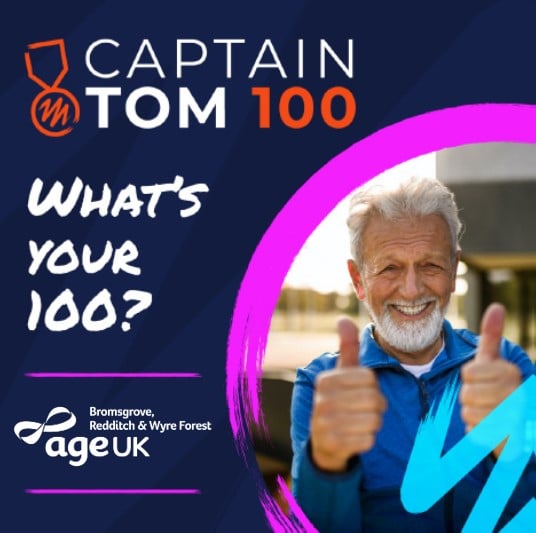 On 6th April 2020, Captain Tom Moore set off from his garden to raise money for the NHS. To honour him, and to build on this legacy, The Captain Tom Foundation are inviting everyone to create their own challenge around the number 100 from Friday 30th April (which would have been Captain Tom's 101st Birthday) to Monday 3rd May to raise money for charity - Age UK BRWF is really pleased to be one of the charities that people can support with the Captain Tom 100 Challenge!
Tackling loneliness was a cause that was close to Captain Tom's heart, as it is to us at Age UK BRWF. So, as part of the challenge, we are looking to set up our own 'Team Age UK BRWF' to walk a collective 100 Miles to help raise awareness of loneliness and the difference that our services and groups make for local people
Whether it be half a mile walk to the local shop or your normal 'socially-distanced' walking the dog in your local park, it will all help to support our 100 Mile Challenge!
Team Age UK BRWF - 100 Mile Challenge
If you would like to get involved with Team Age UK BRWF's 100 Mile Challenge, then here are a few things that we would like you to do:
Pledge Your Miles using the online form below so that we know who is taking part
On the day(s) of your walk, tag us in any photos/ posts that you share on social media (Facebook @AgeUKBRWF, Twitter @AgeUK_BRWF, Instagram @ageuk_brwf) and use the hashtag #CaptainTom100 so that we can share our collective team efforts on our social media pages. Please also ensure to follow all government guidelines, including social distancing, when completing your miles
Once you have completed your mile(s), let us know by using the Tell Us Your Miles form, so that we can monitor and track our progress
Help share details of Age UK BRWF fundraising page – any donations that we receive through this challenge will be used to help support those Age UK BRWF services and groups that help to prevent and tackle loneliness (including our Befriending service, Bromsgrove Men In Sheds, Amphlett Hall Computer Clubs, Tulip Tree Friendship Group and the Redditch Social Groups and Activities)
Would you like to take part in your own 100 challenge?
If you would like to take part in your own individual Captain Tom 100 Challenge to raise money for Age UK BRWF please select the Get Involved button and/ or contact Jo.Hughes@ageukbrwf.co.uk
Get Involved
To find out more about the different ways you can get involved and support us, call us on 01527 570490 or email: enquiries@ageukbrwf.org.uk