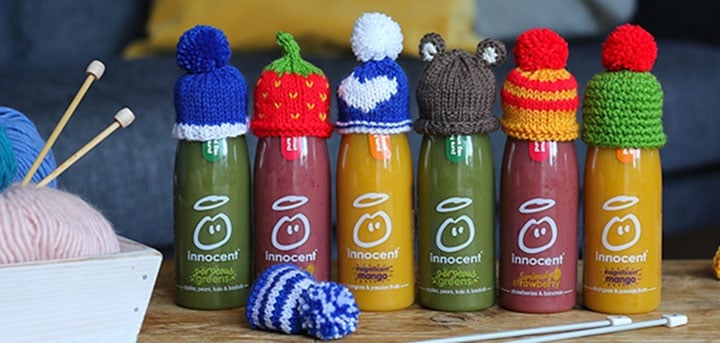 Calling all Knitters (and anybody else that fancies having a go) The Big Knit is back for 2020-2022!
Since 2003 Age UK national have been partnering with Innocent Drinks who donate 25p for every behatted bottle sold as part of this special campaign. Hats will be back on the tops of bottles at the start of 2022
Following the amazing efforts of our local communities during the last campaign, Age UK BRWF's target is to send in 5,000 hats by the beginning of October 2021, which will raise £1,250 so we need to get knitting!
All money raised from the hats sent in by Age UK BRWF will be used to help local older people living in North Worcestershire so, if you can help, please Get Involved!
How to Get Involved
This year's Big Knit campaign has officially begun, so please feel free to start knitting away!
From Beginner to Expert, there are a range of different patterns available from the innocent big knit website but if you would like more details please do not hesitate to contact us
With coronavirus restrictions, we are currently looking at the best way for people to get their hats to us. If you do have completed hats please contact Jo Hughes (Tel 01527 868855 / Email jo.hughes@ageukbrwf.org.uk)
When you do bring in your hats please do leave your name and contact details so we can thank you at the end of the campaign!
Big Knit -Want to know more?
To find out more about the Big Knit and how you can get involved, please contact Jo Hughes (Tel 01527 868855 / Email jo.hughes@ageukbrwf.org.uk)