Age UK BRWF Preparing to Re-Open our Shops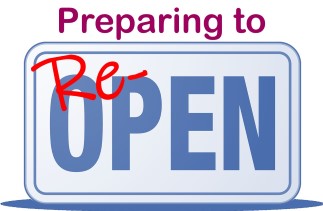 Find out how we are preparing to re-open our Charity Shops, following the changes in Government Advice regarding non-essential Retailers, and the measures we are taking to help keep people safe.
We thank everyone for their support and understanding.
Following the changes in Government advice regarding non-essential Retailers, our team have been working hard to look at ways in which we can implement changes to Age UK BRWF's Charity Shops to meet the strict guidelines and to ensure that we keep our customers, volunteers and staff safe
We are looking at a phased re-opening of our Retail stores, with the aim of re-opening an initial three shops mid-June (please continue to check the News Section of our website and our social media for updates)
We really are so incredibly grateful to everybody that supports our shops however, things will be different as we implement new physical distancing and hygiene measures, and we welcome everyone's patience and understanding as we implement these changes
What changes are we implementing to help keep people safe?
Our priority is our community and our team, so we are busy making sure measures are in place to ensure people will be able to shop, work and volunteer safely with us once we reopen. We are therefore implementing the following:
Risk assessments and social distancing guidance has been produced for each shop to help determine the maximum number people that can enter the shop at any one time (our team will monitor customer numbers and will ask people to wait outside if capacity is reached)
Hand Sanitising Stations to be installed at the entrance of every shop for customers to use
Markings and signage around the shops to help maintain 'Social Distancing' and encourage one-way traffic around the shop
Perspex screens are being installed at our tills
Our staff and volunteers will have access to PPE (including gloves and face coverings)
Additional cleaning routines will be introduced for each shop
We will continue to monitor these measures and will make adjustments as required
Will Donations be accepted?
We know many people have been having clear-outs during lockdown and are keen to bring in their donations to help raise funds to support our local work
Once open, our shops will be accepting donations however, as items will need to be stored for 72 hours before they can be processed, storage space will be limited. We will, therefore, only be accepting donations on TUESDAYs, THURSDAYs and SATURDAYs between the following times:
9.30am–10.30am and 3.30pm–4.30pm
If you can, please can we ask that you stagger your donations (rather than bringing everything at once). If you haven't already signed up Gift Aid please can we encourage you to do so (it only takes a few minutes) as we can claim an extra 25% on sale of your donations (enabling your unwanted items to make even more of a difference!)
Please can we ask that you do not leave donations outside the shop - items left outside shops are at risk of being damaged or stolen or incurring fly-tipping fines
We are not currently able to offer a collection services for donations – please continue to monitor our website for updates
Will there be any changes to 'normal' Opening Hours?
To help us to implement these changes to re-open our shops whilst helping to keep everybody safe, our shops will initially be closed on Sundays
To support the processing of donations, our main opening hours Monday to Saturday will be 10.30am-3.30pm
Want more Information?
For more information and/ or to find out more about our support and services please contact us on 01527 570490 or email enquiries@ageukbrwf.org.uk
Have you had a look at our eBay shop?
Support us - Get online today and get some amazing bargains delivered to your doorstep!