Coronavirus *Omnicron update*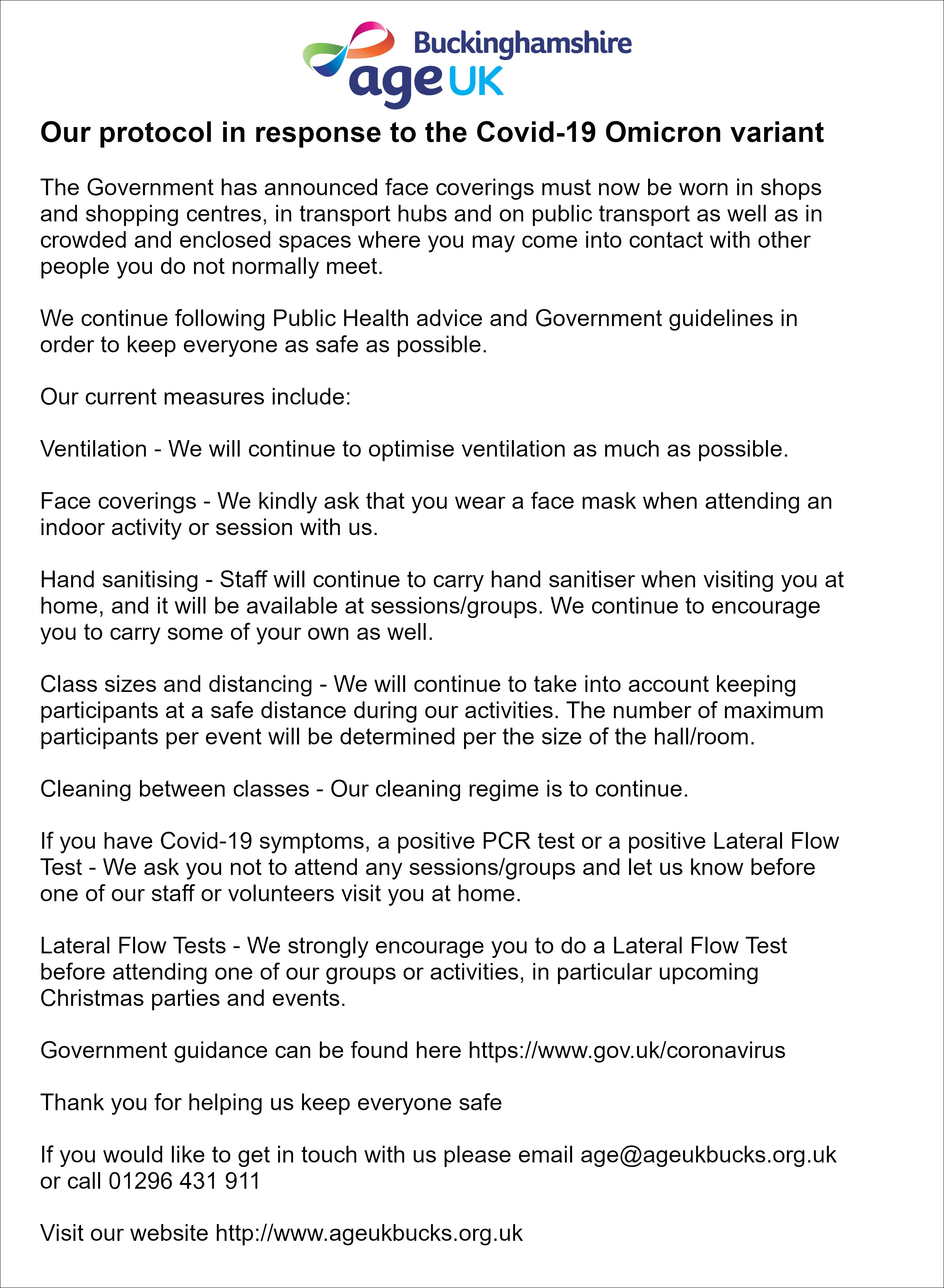 Update as of 01/12/2021
Following reports of a new strain of coronavirus in the UK known as Omicron, the Government has announced some changes to rules as a precaution while scientists gather more information.
The Government has added a number of new countries to the red list for travel and will require all travellers into the UK to take a PCR test and self-isolate at home until they have received a negative result. If you are planning any travel, consult Government guidance for more information.
Close contacts of people infected with the Omicron strain of coronavirus will be required to self-isolate, even those who are vaccinated (Test and Trace will inform you directly if this applies to you).
The Government has also announced that face coverings will be mandatory in shops, on public transport, and in other indoor settings and close contact services.

Coronavirus (COVID-19) – what's the best course of action?

As an extra precaution we would advise using your own soap and hand towel when washing hands.
There has recently been a lot of information in the news and social media since the outbreak of the Coronavirus (COVID-19), some of which is factual but unfortunately a lot that is misleading. The best and most up to date information can be obtained directly from the GOV.UK and NHS websites, which are updated on a daily basis.

To allay any concerns colleagues/clients may have, we have posted the following link on our website and social media pages Worried about the Coronavirus (COVID-19), then click here to get up to date details from the NHS website

The UK Chief Medical Officers have raised the risk to the public from low to moderate but they are still advising the risk to individuals remains LOW.

What can you do to minimise the spread of COVID-19?
• Everyone is being directed to follow the same hygiene guidance already in place for flu and norovirus, which is to 'CATCH IT, BIN IT, KILL IT'. All of us should maintain a very high level of personal hygiene, in particular, washing hands thoroughly and regularly with soap and water for at least 40 seconds (two verses of Happy Birthday should do it), hand sanitisers with over 60% alcohol content can also be used, but handwashing as directed is the best. Covering mouth and nose with flexed elbow or tissue when coughing or sneezing, then throwing the tissue away immediately and washing your hands and avoiding close contact with anyone who has a fever and cough. Please ensure your own work area is kept clean and dispose of all waste properly.

What if I think I have COVID-19 or been in contact with someone who has?
Colleagues who think they may have been in contact with COVID-19 should go onto the NHS online 111 service where they will be given up to date instructions of what to do next. Do not go to the pharmacy, GP surgery or hospital. Only self-isolate if you are officially instructed to do so and your current statutory/contractual entitlements will still apply.

Our advice to clients who may be concerned that they have been in contact with the COVID-19 virus is the same, that they need to employ good prevention hygiene and that if they have good reason to think that they have been in contact with the virus then to go to the NHS online 111 service . There is advice from some specialist charities about how to deal with COVID -19 which may be helpful for some clients:

• Diabetes UK has provided an updated information page for people living with diabetes.
• Asthma UK has released a blog post with advice for people with asthma.
• The British Heart Foundation has published guidance for people with health problems.
• The Cystic Fibrosis Trust, Primary Immunodeficiency UK and the Mental Health Foundation have all issued advice and support.
However, perhaps one of the most important messages at this time may be one of re-assurance.

Legislation has already been put in place by the Government to deal with cases of COVID-19 - The Health Protection (Coronavirus) Regulations 2020



OR better still, and as a last resort- you can make your own and refill your old empty hand santiser bottles.
http://bit.ly/39HQDhc
Updates On COBRA as they happen, can be found here-
https://bbc.in/2TVvSZT




Check back for updates on the Coronavirus.