Covid-19 Community and Support Groups

⭐HOW TO GET FOOD/help with food deliveries⭐
DAC Removals (Aylesbury) Contact 0800 511 8018 Services= Groceries + Meds

Seerah Today (High Wycombe) 07512 321 949 = Food Parcels

Red Pepper Catering (Milton Keynes) 01908 048 820 = Food Delivery

Cook (National) www.cookfood.net 01732 759000 = Food Delivery

Oakhouse Foods (National) 0333 370 2516 = Food Delivery

Wiltshire Farm Foods (National) 0800 077 3100 = Food Delivery

Sainsbury's Phone Shopping Service. Phone - 0800 328 1700

Clarks of Amersham are kindly offering those having to isolate and are offering to collect groceries, medication or any other essentials. 01494 774 186



⭐HOW TO get community support⭐
Prevention Matters (Aylesbury Vale) Contact 01296 484 322 Support

RNIB Support contact 07918608390 (Amersham & Wycombe)

Buckingham Support Network (Buckingham) Facebook = Community Help

Wycombe Community Action (High Wycombe) Facebook=Community Help

Marlow C-19 (Marlow) Facebook = Community Help

Swanbourne Parish Council are organising a leaflet drop to local residents.

Little Chalfont Coronavirus Help (Little Chalfont) Community Help

High Wycombe Coronavirus Mutual Aid (High Wycombe) Facebook = Community Help

Haddenham Bucks Covid-19 Mutual Aid-Isolation help Community Support

Milton Keynes Covid-19-Community Support

Quarrendon and Meadowcroft Community Centre - Support for elderly local people. Contact- 07483140141

Wendover Parish Council Are setting up a Good Neighbour Scheme. Phone 01296 623056

Wycombe Islamic Centre Phone Offering community help. Phone 07477 221688


Buckinghamshire County Council have created a Coronavirus Communities Support Hub . There are further details and you can fill out if you would like to become a volunteer. The webpage is aimed at people offering themselves as a volunteer and also for people who are in self-isolation who need some extra help, for example with shopping.
A form for groups is here.

Covid-19 Health and Wellbeing Advice and Support From Bucks County Council-Community Help and advice.

Coronavirus-Covid-19 UK Support Group- Online support

Buckinghamshire Families Support - Community Support

Coronavirus Anxiety Support Group- Online Support

Chesham Help for Coronavirus- Facebook Group for support

Community Impact Bucks - Covid-19 Support, guidance and advice.

Aston Clinton COVID-19 Facebook support group.

Kind help from a local person with food delivery in the High Wycombe area. Please call 07776217233

If you would like to speak to a volunteer over the phone-
Marlow Community Group are kindly volunteering support, you can call them on 07932 023356, or 01628 487255

You can also speak to someone at Bucks Mind on 01494 463 364


⭐HOW TO set up a group(s)⭐
Community Impact Bucks have information on how to go about setting up groups,support and advice for volunteers during this time.

Things to consider when setting up a Covid-19 response group

How to support volunteers in a Covid-19 response

⭐HOW TO stay safe⭐
Guidance on Shielding and protecting the vulnerable

A guide to Social Distancing

World Health Organisation Guidance and help videos on Covid-19

How do I self isolate? An informative article from the NHS here.

Please be very wary of scammers.
There are some articles which you can read online warning everyone of the new scams related to the spread of the Coronavirus. Please read them and warn others of the scams.
:Warning of spike in scams linked to crisis.
Covid-19 app and email scam
Coronavirus:How to avoid fraudsters during Covid-19 outbreak.



⭐HOW TO keep fit at home during isolation⭐
Chair-based excercises
Good Housekeeping staying healthy during isolation

If you are on Facebook, please 'like' our page so you can follow us regarding any updates to this page as they are posted.
https://www.facebook.com/ageukbucks/
-------------------------------------------------------end--------------------------------------------------------
----------------------------------------------------------------------------------------------------------------------------------------------



The Big Knit is BACK and the great news is that you can start on your projects now! We have all of the patterns RIGHT here! just click on the ones you like and download (right click save image as).

If you would like any copies of patterns sent out-please email the Editor with your name and address and I can send copies out to you.
ccunninghamoakes@ageukbucks.org.uk

Duck Hat
A Berry Fancy Hat
Sheep Hat
Apple Hat
Banana Hat
Blue Bobble Hat
Blue Heart Hat
Blue Tit Bird Hat
Bobble Crochet Hat
Cat Hat
Cheeky Monkey Hat
Clanger Hat
Crochet Owl Hat
Crochet Tortoise Hat
Dinosaur Hat
Duck Hat
Ear Flap Hat
Fox Cub Hat
Fox Ears Hat
Heart Bobble Hat
Juicy Pear Hat
Lion Hat
Mini Beehive Hat
Pineapple Hat
Postbox Hat
Shark Hat
Sheep Hat
Sheriffs Hat
Simple Bobble Hat
Sombrero Hat
Stripe Hat
Ted Hat
Bobble Hat
Cherries Hat
Crochet Owl Hat
Fez Hat
Fox Hat
Hippie Hat
The Monster Hat
The Unicorn Hat
With Love Hat
Wooltermelon Hat
--------------------------------------------------------------------------------------------

Wintery news and fundraising events to warm up those cold nights.

As you know, the month of November marked the 5th and many fireworks could be seen in the skies all around the Bucks area. November was also a time to honour Remembrance Day on the 11th .




November was also the month when we had our tombola which we held in conjunction with our friends over at Bucks Vision.
We would like to say a huge thank you to all of you who came along on the day, to join in on the festivities, having a go on the tombola and winning prizes!
Thank you to Matt Barnes and Katy Cresswell of Radfield Home Care who came along to the office here at AgeUK Bucks, and kindly donated a splendid array of items for our tombola. (pictured)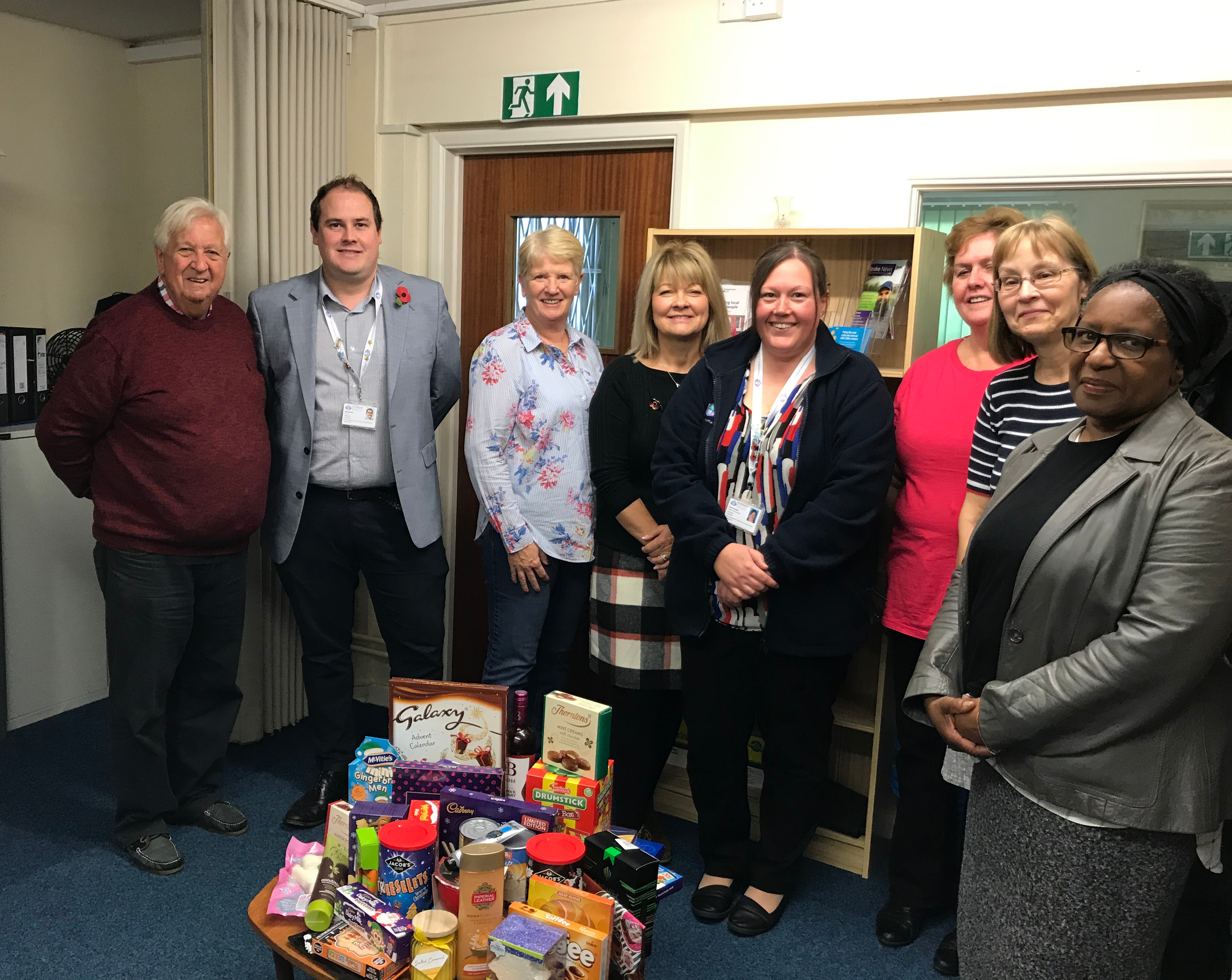 Thank you to those of you who were kind enough to donate any items for our Tombola. Your support helps us raise funds to work with older people in Buckinghamshire.

We will have a total of how much we raised, from the tombola in the Spring issue March 2020 copy of Engage.



VERY Well done to the team of volunteers, and members of staff who attended the fundraising quiz night held on behalf of the Lyons. They raised a staggering £1000 for AgeUk Bucks which was presented to us at the quiz.

Following on from the Christmas theme, (and we would like to to thank them in advance for their kindness), Radfield Home Care will be a having a stall at the Beaconsfield Festival of Lights this year.
You will be able to purchase all variety of goods including festive treats. There is also the chance to name the cuddly toy competition. All proceeds will go to AgeUK Bucks.
!SWIMTASTIC!

Our Fantastic swimmers raise over £1043!
In October of this year our CEO and two of our volunteers put on their swimming hats and took part in 2 sponsored swims, held at Aqua Vale in Aylesbury and at the Swan pool in Buckingham.
We are extremely proud of their efforts and wish to thank Olivia Rose and Rob Finlay for joining us at Aqua Vale sponsored swim. Between us we swam over 450 lengths and have raised over £1043! for our work with older people in Buckinghamshire.
"It's great to be involved, set a goal and push your limits. I was blown away by the generosity of friends and family. Swimming alongside others was really encouraging and when it started to hurt, I found a new surge of energy and inspiration by remembering some of the older people I've met who just keep on going despite the big challenges they face every day."
Rob Finlay-One of our super swimmers.


Update 25/11/2019
Our Tombola went well. Huge thank you to Bucks Vision for allowing us take part alongside with them in the festivities over the weekend.
So good to see so many of you on Saturday and thank you for visiting our stall and having a go at our Tombola.
Many prizes were won, from bottles of Baileys and dinosaur egg toys to a tin of beans! Great fun!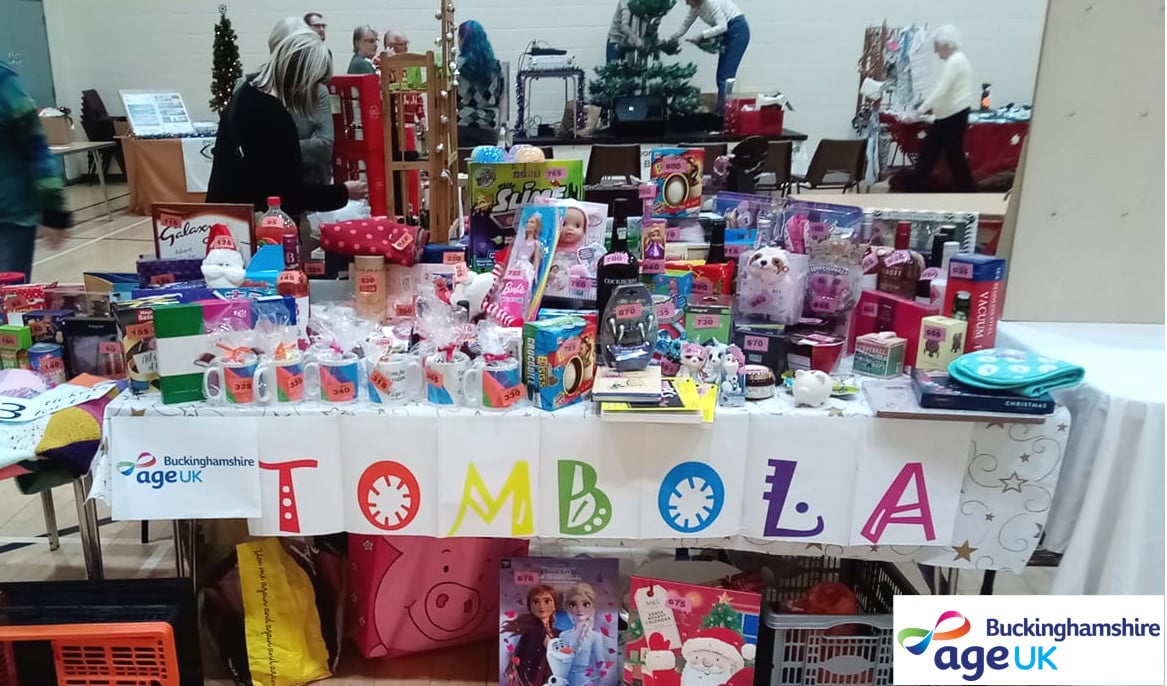 We managed to raise £143.50 from the tombola!
All proceeds go towards providing the vital services which focus on the needs of older people in Buckinghamshire.
--------------------------------------------------------------------------------------------------------
We would like to say a huge 'Thank you' to the wonderful people at Buckingham Ford who held a tea party in early December 2019. With £1 for every cup of tea sold going towards AgeUK.
---------------------------------------------------------------------------------------------------------