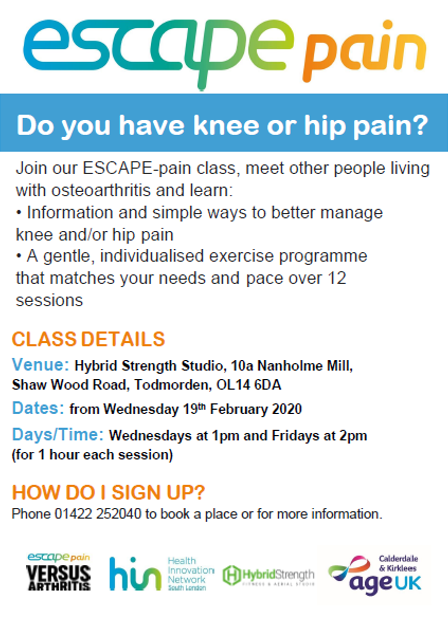 What is Escape Pain?
Escape Pain is a group-based, rehabilitation programme for the management of osteoarthritis of the knee and/or hip. It is supported by NHS England and Versus Arthritis and has won many awards: http://www.escape-pain.org.
Who is our Escape Pain Fitness Instructor?
Chris Wooler from Hybrid Strength. Chris has had specialist training to deliver this programme.
Where are the sessions?
10a Nanholme Mill, Shaw Wood Road, Todmorden, OL14 6DA
How long is the programme?
The programme involves two sessions per week (each an hour) and lasts for 6 weeks – so 12 sessions in all
When are the sessions?
The sessions run every Wednesday at 1pm and Friday at 2 pm
How much does it cost?
The total charge for all 12 sessions is £30, this is a reduced price as we have received some additional funding to support this programme only - so future courses will cost more.
Booking on the course
Please contact 01422 252 040.
Who would benefit from the programme?
The programme is aimed at people who:
Are aged 45 years or older
Have had chronic joint pain for at least 6 months
Need a supervised exercise programme
Want to be Independently mobile and able to carry out regular exercise, and
Can attend classes for 6 weeks
What happens during a session?
The hour is based around 1/3 education (including coping strategies) and 2/3 group exercise (individualised and progressive).
Do you have to attend every session?
Ideally yes to get the most benefit. If you attend at least 10 of the 12 classes, you receive some discounted follow-on services (to be announced at the first session).
If you would like anymore information or would like to book this please contact 01422 252 040.