Rotary Gardening Project - Calderdale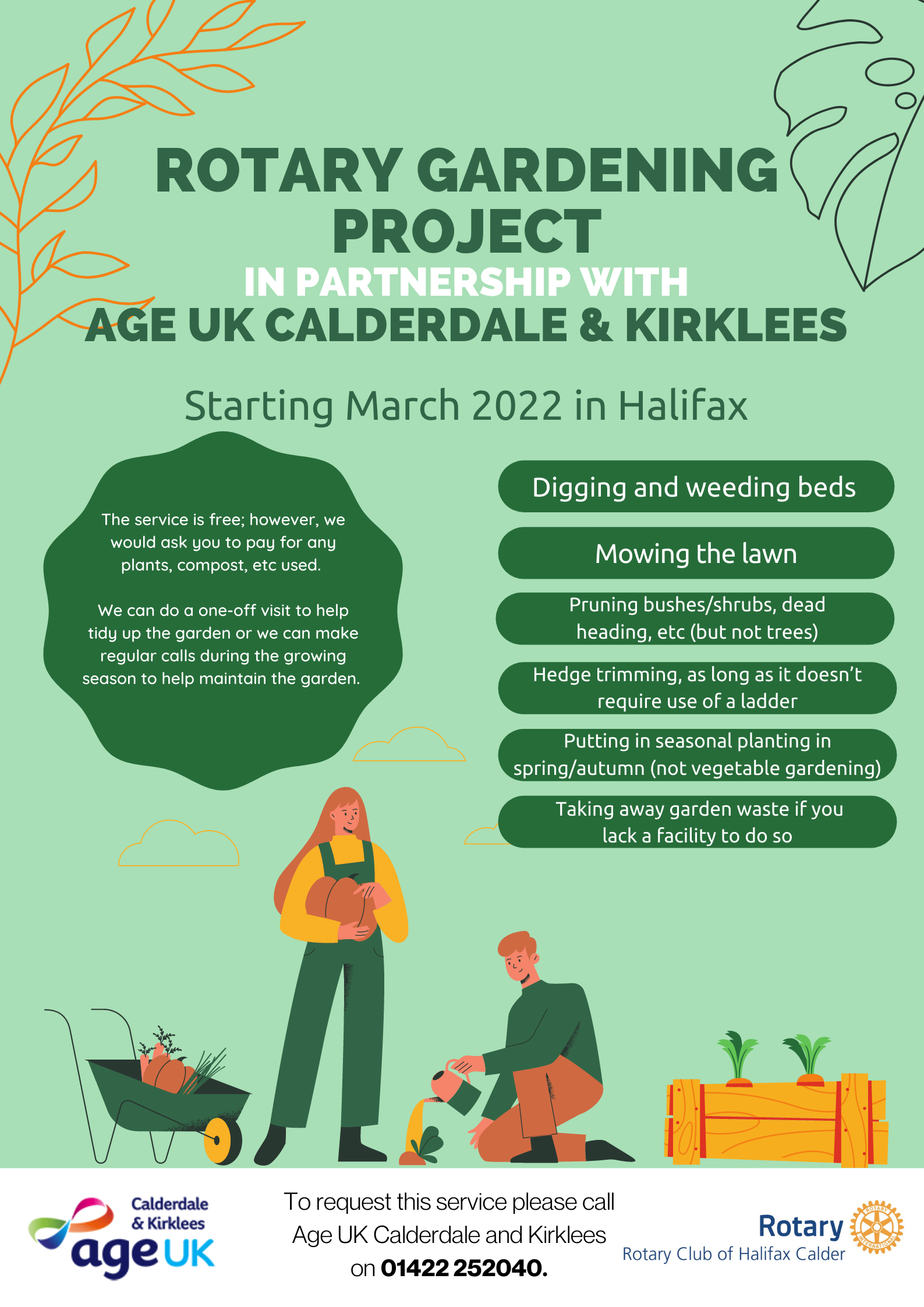 Halifax Calder Rotary is setting up a new volunteer-led gardening service in Halifax starting in March 2022.
This aims to help the following:
Older people who cannot do basic gardening tasks due to their mobility and where family are unavailable to help.
People who have enjoyed their garden but can no longer cope with maintaining it and cannot afford to employ a gardener.
We can't undertake major garden makeovers or clear ups. The work needed should be straightforward enough to be carried out by volunteers.
How we will work:
We will use our own tools, but may use your lawnmower if safe to do so.
The service is free; however, we would ask you to pay for any plants, compost, etc used.
We can do a one-off visit to help tidy up the garden or we can make regular calls during the growing season to help maintain the garden.
What tasks we can do:
Digging and weeding beds
Pruning bushes/shrubs, dead heading, etc (but not trees)
Mowing the lawn
Hedge trimming, as long as it doesn't require use of a ladder
Putting in seasonal planting in spring/autumn (not vegetable gardening)
Taking away garden waste if you lack a facility to do so
If we are providing regular garden tidy up, this will be fortnightly, and you will be responsible for more frequent tasks such as watering.
If you only require lawnmowing and/or hedge trimming, Age UK C&K can provide this service for a modest charge.
We will visit you before we start gardening to assess what work is required and agree with you what jobs you would like us to help with. With your permission we would like to take some photographs to promote the partnership between Halifax Calder Rotary and Age UK Calderdale and Kirklees.
Please note that this service is for households in Calderdale only.
To request this service please call Age UK Calderdale and Kirklees on 01422 252 040.