Coronavirus - Current Services Status
Updated 26.07.2021: We are now implementing Step 4 of the Covid Recovery Roadmap.
We will be continuing with our existing safety measures in place for the foreseeable future, including the use of PPE when working with service users and observing social distancing wherever possible.
IF YOU NEED SUPPORT PLEASE CONTACT OUR INFORMATION AND ADVICE HELPLINE PHONE 0300 666 9860
In line with government guidance, this is AUKCAP Roadmap to Recovery. A pdf copy can be DOWNLOADED HERE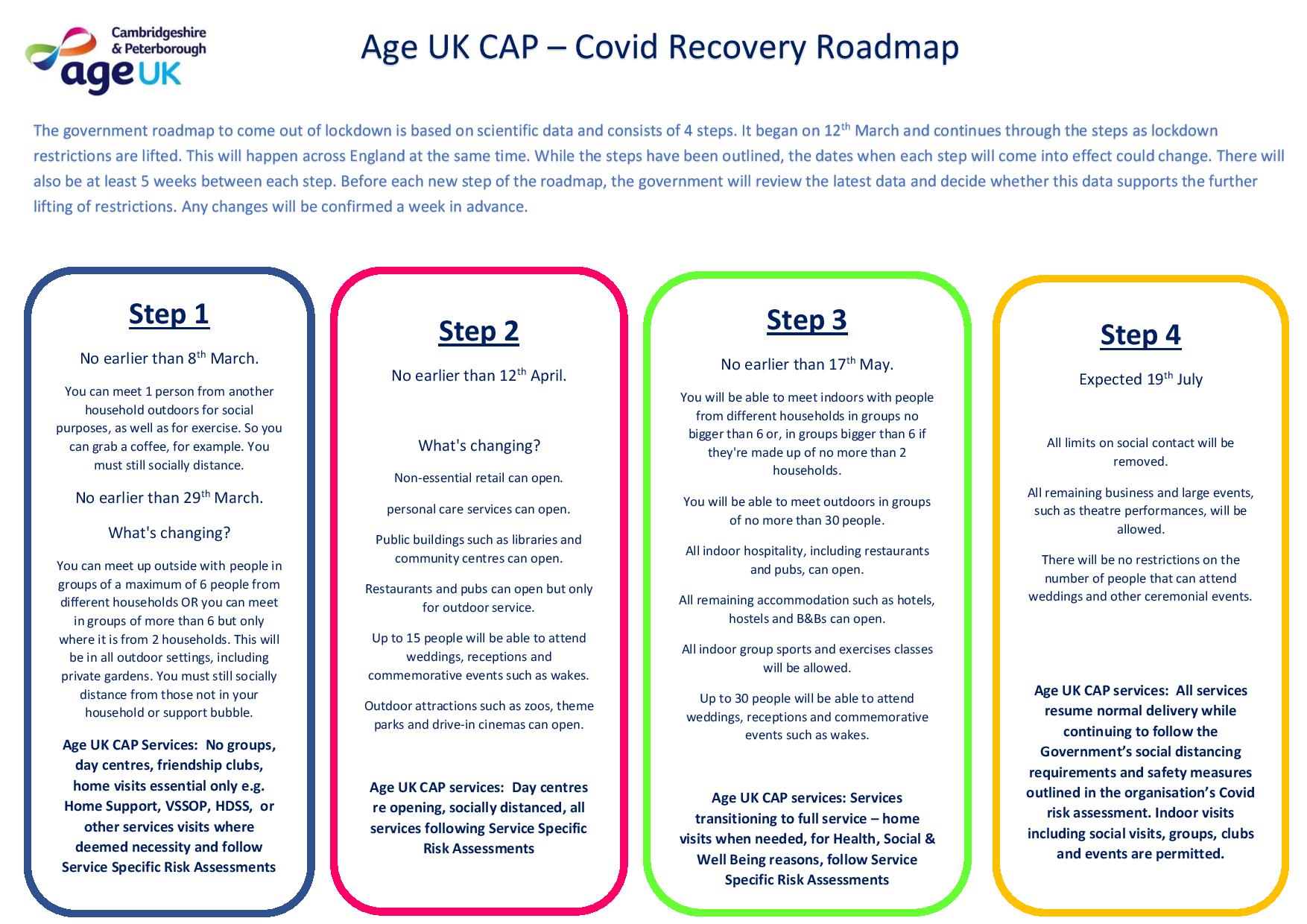 Our national partner, Age UK, has comprehensive information and guidance on their website in the link below.
This table displays the latest status of our services. It is updated regularly and also supplied to the Age UK Advice line. Each service is listed. To see more information about a service, you can select it and scroll across to see its current status.
You can expand the table full width by clicking on the arrow buttons on the bottom right for a bigger view. If you're browsing on a phone or tablet, select within the table and drag right and left.
Listen to Chief Executive, Melanie Wicklen talking on CB1 & Beyond with Luke Anthony on Cambridge 105 Radio January 2021.
Discussing Covid-19, how our services can support people and our need for more volunteers.
https://cambridge105.co.uk @Cambridge105 @LukeAnthonyUK
Age UK Covid-19
Lots of information and guidance, including the latest news on Covid-19
How have we helped during Covid?
How many people we have supported? Read our IMPACT