AUC Blog: A Right Royal Run!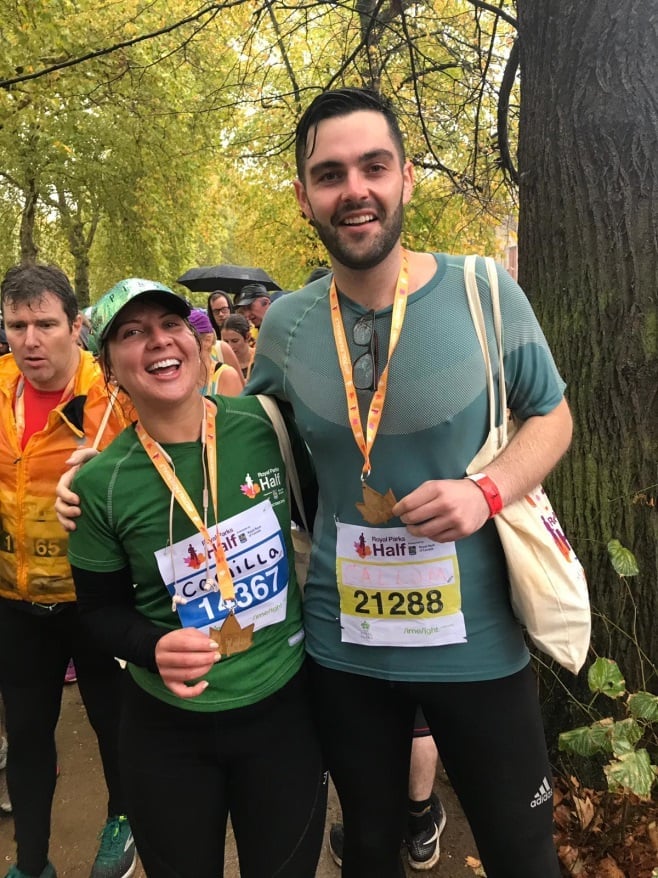 Published on 25 March 2019 11:30 AM
A Right Royal Run: Callum's Half Marathon For Age UK Camden
"I actually can't believe I made it all the way through without stopping"
A half marathon is a fantastic challenge – one that even amateur runner can comfortably train for over a few months. Callum Burke O'Driscoll, who runs our Digital Inclusion service, did just that last year when he pledged to run the Royal Parks Half Marathon for us after the service lost its funding.
Knowing how many older people relied on the digital drop-ins to access technology inspired him run in the famous race. Callum kept a blog to share his training progress.
"I started by doing very small interval training," he said in one post, "30 seconds on 30 seconds off, and started building it up very slowly, and it took a lot to even get to 5k but I eventually did it and I'm so proud of myself."
Alongside training, Callum came up with some inventive ways to raise money for AUC. He organised a life drawing fundraiser with his local cinema, made posters to spread the word about the run and encouraged friends and family to sponsor him.
On the big day, Callum was nervous he wouldn't make it the whole 22km, but the roaring crowds gave him the extra boost needed to push through to the finish line.
"I actually can't believe I made it all the way through without stopping," he posted after the run with a picture of his leaf shaped medal.
Have you got a half marathon in you?
Age UK Camden is looking for runners, beginners or experienced, to take part in the Royal Parks Half marathon this year. Every penny raised will go towards funding our work with Camden's most vulnerable older people.
Our services include; information & advice, two community day centres, social prescribing, community connectors, a dementia wellbeing project, digital inclusion computer drop-ins, counselling, befriending and more.
Why not challenge yourself, physically and mentally, and make a real difference to the lives of older people at the same time?
And if you are up for a sporting challenge but don't fancy a run, we also have places on this year's Swim Serpentine event and the Prudential Ride London events. Get in touch with Suzy.Barber@ageukcamden.org.uk for more details and to sign up.
Make a #PledgeFor2019 with Age UK Camden
We have made a #PledgeFor2019 to reach and support even more older people in the borough of Camden and we need your help to do it! Why not make a pledge to fundraise, donate or volunteer with Age UK Camden. Read more about our #PledgeFor2019 here.