Bonny, Head Massage Therapist
Bonny has been volunteering at Henderson Court since October 2016. She says that she loves the community atmosphere.
How long have you volunteered at Henderson Court Resource Centre?
I have been volunteering at Henderson Court since October 2016.
What is the role and what does it involve?
I am a head massage therapist, so I spend an hour and a half each week, giving 15-minute head massages to members at the day cen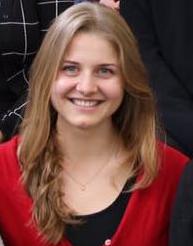 tre. The head massage gives members a chance to completely relax (and sometimes fall asleep!). Part of this role also involves checking in with members and chatting about what they're up to and how they're feeling that week.
What made you want to start volunteering?
I was looking for ways to get involved with my local community and gain some work experience in care settings and, I had recently completed an ITEC course in head massage. I thought Henderson Court would be the perfect place to practice my massage skills and give back to my local community. I also have a research interest in the psychological benefits of massage for people who live alone, so this volunteer role supplements my academic work by giving me first had experience of my research topic.
Are there any challenges?
Sometimes demand is high and I don't have enough time to give everyone a massage, but I keep track of people I couldn't get to and try to make sure they are first on my list next time.
What do you do on a day to day basis?
I am currently volunteering at three places to gain work experience in care settings. I intend to pursue a career in clinical and research psychology.
What's your favourite thing about volunteering with Henderson Court?
I love the community atmosphere. It's so nice to arrive each week and be welcomed by both staff and members, to see familiar faces, and feel a sense of belonging.
How have you used the skills you've learned?
I've learned a lot about the needs and challenges facing elderly people (eg reduced mobility and loneliness), but I've also got to see how despite these challenges Henderson Court members are full of life, stories and good advice. These lessons have helped me work with people in a range of other care settings.
What other benefits are there?
As a volunteer, there are lots of opportunities to attend training in various different skills, ranging from first aid to hand massage. You always feel supported and valued by the organisation and its beneficiaries, which is uplifting and rewarding.


If you'd like to volunteer please call us on 020 7239 0400