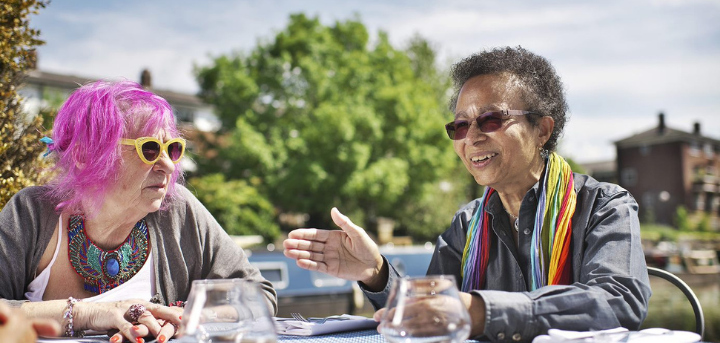 Our Information & Advice team offer advice on welfare benefits debt and money, housing, accessing services, charitable grants and supporting you with arranging Lasting Power of Attorney and later life planning.
If you or a loved one are going through a life changing event such as; a bereavement, retirement or redundancy, relationship separation, a change in your finances, a change in your care needs, your housing is no longer suitable for your needs, you need adaptations to your current home to make it more comfortable, a deterioration in your health or a reduction in your mobility, feeling isolated or lonely and would like to socialise more, our team can help you adjust and manage this impact on your day-to-day life. The Building Resilience Programme can help you with any issue you feel is causing a change in your life - our experienced team is here for you!
Outreach Locations
Camden High Street Charity Shop - Every Tuesday and Thursday. 2 appointments each day, 2.30pm and 3.30pm

Leather Lane Charity Shop - Every 2nd Tuesday. 2 appointments at 3.30pm and 4.30pm
Worried about abuse?
If you suspect that you or someone you know is being taken advantage of or suffering from some form of abuse, please contact us:
Phone: 020 7837 3777
Email: Safeguarding@ageukcamden.org.uk
You can also find more information on Age UK's website.
How to access the Information & Advice Service
By phone: 020 7837 3777, 10am-4pm, Monday to Friday
By email: duty@ageukcamden.org.uk
At our office: Once we have been advised that it is safe to resume face-to-face appointments, these last approximately 45 minutes, and give you an opportunity to see one of our trained advisers. Some issues may require a double appointment. Book by calling, emailing or dropping in to arrange an appointment.
Self-help: client access to telephone (Wednesdays from 10am-4pm) with staff on hand to help if needed.
Home visits: these are for people who are housebound and unable to leave their homes.
Outreach: information sessions at the locations below. Booking is essential, so please call 020 7837 3777.
Find out about how to boost your income in later life, including what benefits you may be entitled to and how Age UK Camden can help you.

We offer support on planning for the future. From talking through the importance of having a will and Lasting Power of Attorney to funeral plans.
If you receive direct payments from the council we can help you with managing your care package to give you the most flexibility, control and independence through our subsidiary charity Personalisation Support In Camden.

Are you looking for older people's services in Camden? Then look no further than Age UK Camden's Online Directory. A simple search tool to find information about care, health, housing, money, leisure and more.
We can help you with housing issues such as disrepair and house move applications.

We can help you to access social care and health services and provide guidance if you're thinking about getting some help at home or need to start looking at care homes.
Free booklets and online information
Age UK National produces free information guides and factsheets on a wide range of topics, including home adaptations, dementia, and advice for carers. You can find a complete list of guides and factsheets on the Age UK national website.

If you prefer to read information online, the Age UK National website has information and advice on many topics, including how to find a care home, how to avoid scams, and Power of Attorney.