Fay Blair - LAPWING Project Manager
Fay Blair, the LAPWING manager, facilitator and evaluator has been an invaluable asset to Age UK Canterbury throughout the LAPWING project.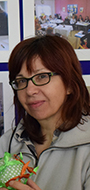 Fay's experience in local community work, from local authority, public arts' organisations and her skills as a researcher and evaluator have been immensely useful in planning, organising and facilitating sessions with the artists.
Fay has considerable experience of working in and for local authorities, the public sector (including museums & galleries, arts development and environmental sustainability organisations), Government departments (the International arm of the Local Government Association, DEFRA, UK Sustainable Development Commission) in addition to their non-governmental, voluntary, community sector, charities, private and social enterprise partners.
In the last few years, Fay's work has focused largely on project & development work with clients from smaller, locally based organisations and their client audiences (such as Rethinking Cities & Museums of Walking, Dover Museums & Arts Group, Future Foundry CIC, Kent Creative Arts CIC) and other clients that receive Arts Council or Heritage Lottery funding(HLF).
Informally, Fay co-ordinates the 'tea & creativity' activities at Cranmer House sheltered housing scheme led by the Friends of Westgate Parks, and a regular sessional peer support worker for the charity Take-Off, for physical and mental wellbeing in Canterbury.
Fay's keen interest in social value, especially the arts, has been demonstrated through her commitment to the project. Fay has not only facilitated a number of the sessions, but offered support to each of the artists through their residencies and steered the development of the training programme.