Home-Start Canterbury and Coastal
Another vulnerable group of adults that LAPWING artists worked with was women who have suffered domestic abuse. LAPWING worked towards lifing their self-esteem and confidence through arts experiences.

The charities Home-Start Canterbury & Coastal with Rising Sun Domestic Violence and Abuse Service that support women and their families, hosted and supported a women's art group. A support worker and a counsellor worked with the group and the artists.
LAPWING artists, Tracie Peisley ran sessions (art therapist, pictured above) in September/October 2016 and Sue Toft (artist, pictured below) ran sessions in June/July 2016.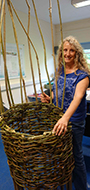 The women's work was remarkably impressive, featuring watercolour, screen printing, weaving (a collaborative piece to create a living willow chair), collage work, and sewing.
The women's art group work from the summer sessions featured in an art exhibition led by Rising Sun at the 'Front Room' gallery in the Beaney House of Art and Knowledge, High Street, Canterbury during September 2016.
Outcomes
Many of the women felt they had something

to do with their own children at home bring a sense of fun, togetherness and enjoyment. The process of engaging in creativity was central to the project, as opposed to the finished product.
Others reconnected with creativity and art, whilst some surprised themselves at how expressive and creative they could be.
The quality of work produced through experimentation was fabulous.

Many women were so keen they continued their work at home between sessions.
The programme of sessions provided both a sense of relief and fulfillment for the women, but above all, it helped to build their self-confidence and self-esteem, to feel positive and hopeful about the future.
You can see some of the work with Sue, Tracie and some of the images from the exhibition in our Home-Start Canterbury and Coastal gallery here.