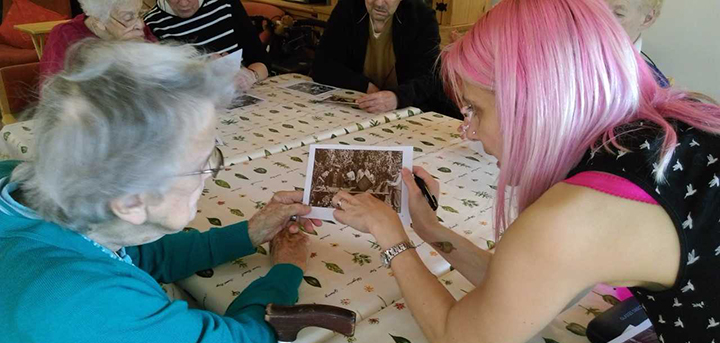 In Canterbury, older people took part in sessions at two centres:
Age UK Canterbury Day Centre (Castle Row)
Cranmer House Sheltered Housing Scheme (London Road)
These two settings hosted creative sessions lead by a total of four of our LAPWING artists. Sessions were supported by other LAPWING trained artists as volunteers.
The visitors to the Age UK Canterbury day centre engaged in the creative activities as part of the lunch club visits. The activities were offered to the whole group (around 30 people). Cranmer House residents on the other hand took part on an 'opt-in' basis with those wishing to take part coming into the communal lounge specifically to participate.
Artists
Outcomes
Participants generally enjoyed the sessions overall. A core of keen people whole-heartedly and consistently relished the opportunities.
Residents at Cranmer House particularly, were surprised at how much they could contribute to creative writing. Even though some were no longer able to read or write, they felt included, as their views were recorded and scribed by a volunteer working with them.
It was found that offering a range of different creative activities, giving a range of options, broadens the appeal to participants.
Reading aloud, in addition to listening to stories and poems was very popular, especially the well-loved 'classic' poems.
The conversational process elicited by the writing process was rich and stimulating.
The topics were inclusive so everyone felt they had something to say.
Hands-on making activities, or creative writing, that results in a group collective piece provides a legacy, testament and a talking point for the participants to share, relish and enjoy. It generates an enduring 'feel good' factor of what they contributed to and achieved together, as a group.
Small intimate groups add greatly to the participants' quality of experience. Groups larger than eight ought to be split with a well-briefed facilitator and ideally two volunteers per group of eight.
Well-briefed, confident volunteers made a big difference to the participants' enjoyment of the sessions, providing much needed practical support, prompting and reminding (especially for those with cognitive impairment), as well as offering company and social interest.