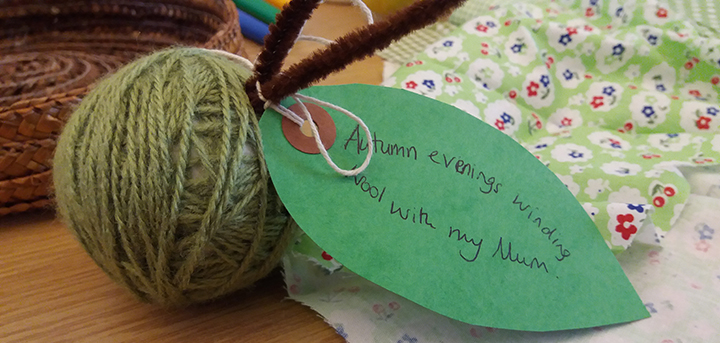 The NHS Canterbury & Coastal Clinical Commissioning Group was keen to enhance older people's engagement in activities, particularly in Faversham.
Julie Davies, 'the florist that teaches' (Faversham-based) took part in the LAPWING training programme. She organised and led a series of creative sessions at Age UK Faversham in June 2016 and later, at the Alexander Centre in Faversham in October 2016.
Julie, through her local networks, helped to promote awareness for the project and stimulate interest in the creative sessions at a 'Wellness Fair' held at the Alexander Centre in Faversham.
"It brings it home to you that people are knitted into families and those families have a network of love. Our external prejudices sometimes get in the way of what we consider to be the norm and we'll brush off/avoid interacting with people who are different to this."
"Once you start talking, (with the creative activity catalysing this) you realise that we're all the same underneath and that there are a wealth of memories, advice and knowledge to be shared on both sides - as well as enjoying time to sit and be contemplative"
- Julie Davies, LAPWING artist, 'the florist that teaches'.
Outcomes
The creative sessions were inspiring, very diverse and highly productive. The themes of Julie's sessions included:
1. Spring - New buds/kokedama hanging gardens
2. Summer evenings and soft breezes - Wind chimes
3. Green apples - summer time and harvest
4. Autumn leaves - Dried and pinned to apples
5. Pine cones for Christmas and winter bird feeders
6. Celebration picnic under our tree - flower arranging cupcakes.
The sessions provided an opportunity

for people in later life,some of whom are otherwise very isolated,

to engage socially and make friends with others in a relaxing and fun environment.
The themes encouraged conversation, allowing participants to take the first step in building meaningful relationships and bonding together socially.
The intimate group of eight found the sessions to be effective and rewarding. The support provided by the volunteers was immensely valuable and appreciated by everyone involved.
Many of the pieces made by the participants were of exceptional quality. Some took them home for their ornamental value or their functional use or simply to share and admire with friends and family.
Several group members were highly motivated and keen for the sessions to continue. These people would be ideal 'ambassadors' to promote future sessions at Age UK Faversham with Julie's tried and tested themes and techniques.