'Talking Trees' was a year-long enrichment partnership project with Age UK Canterbury working with Simon Langton Girls' Grammar School (SLGS) from January 2016 - December 2016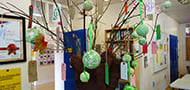 It provided a knowledge and skills development, befriending and volunteering opportunity for students to help promote more dementia-friendly, mental health alert communities.
Students engaged in a programme of group visits to engage older people in creative activivities. These sessions were led by professional artists trained in 'arts for dementia and wellbeing' through a larger project programme led by Age UK Canterbury called LAPWING - 'Live Art Practice Wellbeing Inspired Network Group'.
Downloads
Download the full Talking Trees evaluation report (PDF) here
Download the promotional Tree Trail Launch Leaflet 2017 here
Download the Westgate Gardens Tree Trail leaflet here
Visit the 'Talking Trees' gallery here
Project Details
30 students engaged with day centre members at Age UK Canterbury and residents of Cranmer House sheltered housing scheme in Canterbury following school-based training sessions in dementia, mental health and how to engage effectively with older people.
Students help to facilitate group creative activities with older people, supported by local professional artists (trained under Age UK Canterbury's LAPWING programme) which included the crafting and making of a 'memory and wisdom tree'.
Celebratory events were held in May and June 2016 and included the launch of a Westgate Gardens Tree Trail; students helped to design the trail with older people in mind.
The trail event included live student music recitals and afternoon tea at Tower House, and outside creative workshops with LAPWING trained artists and student guided walks around the site following the tree trail leaflet.
The project was developed, co-ordinated and evaluated by Fay Blair on behalf of Simon Langton Girls' Grammar school, with teachers Hannah Blaskett-Foord, supported by Melissa Challis.
Local LAPWING project artist, Sue Toft, was the main artist working on Talking Trees, leading creative sessions and assisting with the development of the tree trail leaflet with Westgate Parks Development Officer Anna Bell, Lauren Baker and Fay Blair.
Project Outcomes
The project was very successful in many ways:
It enabled students to engage with older people and gain experience with mental health issues, such as dementia.
An astounding 97% of the students felt that they had walked away from the experience with more knowledge of mental health issues.
87% reported an increase in general confidence, especially in communication.
Some of the students have gone on to further work with old people; some involved in befriending projects in the community, others have become champions - inspiring others to get involved with similar community wellbeing projects.
Legacy
On 21st May 2017, in partnership with Westgate Parks, Simon Langton Girls' Grammar school students helped to formally launch the Westgate Gardens Tree Trail with the Lord Mayor of Canterbury. Several LAPWING artists led creative activity workshops in the park and students helped to escort older people around the tree trail site.
Following on from 'Talking Trees', several student champions from SLGS are now involved in mentoring and guiding the development of a new project led by Age UK Canterbury. This project called 'Postcards from Precious Places' is facilitated by Fay Blair, with LAPWING artists, Nicky Thompson from 'Pebble Poetry' and Catherine Arnell from 'Espression Arts'.
A team of students from both Simon Langton Grammar School for Boys and Simon Langton Girls' Grammar School will be supporting a series of creative writing and crafting sessions at Age UK Canterbury in July 2017.
These sessions are specifically designed for people in later life who live with dementia and for their carers, relatives and family members to attend and enjoy. The work was mainly funded by Kent County Council Kent Dementia Action Alliance.