Age UK Cheshire Travels 3500 Miles Across Cheshire To Help Older People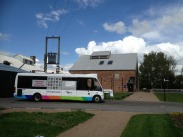 Published on 28 December 2016 01:07 PM
Age UK Cheshire's mobile Information and Advice unit has a successful tour of Cheshire!
Age UK Cheshire, the charity that works to enhance later life for older people throughout Cheshire, has travelled nearly 3500 miles since January, visiting the more isolated, rural towns and villages of the county. Using a specially adapted mobile unit, Age UK Cheshire made over 150 visits to 14 different venues across the county, from Neston to Malpas, from Audlem to Burton on the Wirral, to raise awareness of the issues surrounding the difficulty many older people face during the winter months, handing out winter warmth items, including clothing and blankets and offering free, impartial advice on a wide range of topics including benefit advice, help at home, consumer issues, paying for care, planning for the future
"From the depths of winter, which is an especially difficult time for many older people, bringing as it does a constant worry about how to keep warm and healthy, to the warmer days of spring and summer, our touring bus reached nearly 250 older people we would not have been able to help, that's twice our original target", said Nicola Hill, Information Services Co-ordinator at Age UK Cheshire, who managed the project.
"The Age UK Cheshire Information and Advice touring bus has made a great impact. We have been able to generate over £100,000 in benefits for the older people of Cheshire who visited us on the bus. Our county has many small, rural communities, where older people find it more difficult to access our services, so having a mobile unit available has enabled us to get into the heart of many of these hard to reach communities and reach many more older people", added Eleanor Rowlands, Information Services Co-ordinator at Age UK Cheshire, who co-managed the project.
If you would more information, please contact Nicola Hill on 01606 884448 or at; nicola.hill@ageukcheshire.org.uk.