Age UK Cheshire Acquires Second Retail Unit in Northwich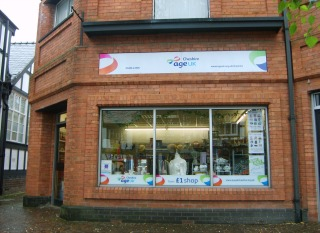 Published on 29 November 2017 02:03 PM
We are delighted to announce that we have recently opened our second shop on Witton Street in Northwich.
The new shop, which is next door to Age UK Cheshire's £1 shop, is our seventh shop and will stock furniture, electricals and bric a brac.
Elsa Haughton will take on the role of manager as well as managing the £1 shop next door, where she has worked since 2012
Andy Wyatt, Retail Area Manager at Age UK Cheshire commented: "This is an exciting development for us, which we hope will generate further additional funds. It has only been open a few days but we have already received some really positive feedback as well as seeing many of our regular customers.
Prior to us taking over the lease on the new unit, the shop had been empty for quite some time, so it's nice to have one less empty unit on the high street – as well as having an even greater representation of Age UK Cheshire in Northwich."
The new shop is on the lookout for volunteers. If you have a few hours to spare and would like to work in a busy retail environment, please give Elsa a call on 01606 350665
The new shop opened on Monday 20th November