A Thank you from the Falls Prevention team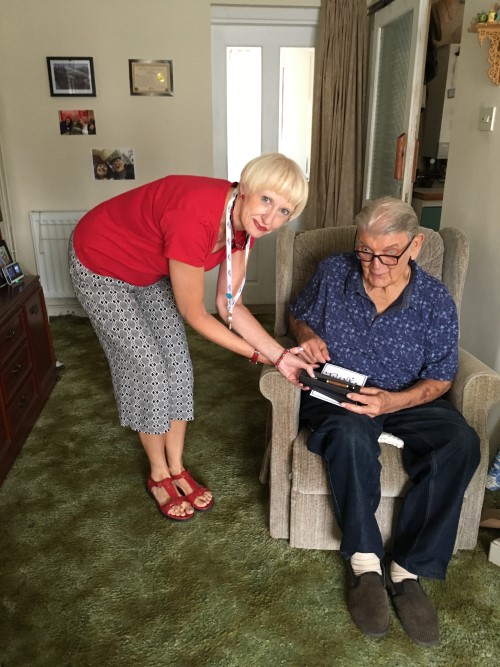 Published on 06 September 2018 10:50 AM
Local Winsford resident, Mr George Blease has been presented with an individually created handmade pen, made by Men in Sheds - a gift from Tracy Etherington, Falls Prevention Co-ordinator for Age UK Cheshire.
The gift was given to Mr Blease as a thank you for appearing on the front cover of the new Age UK Cheshire Falls Prevention Service leaflet.
Age UK Cheshire recently expanded its free Falls Prevention Service, which previously ran in Ellesmere Port, to cover Northwich and surrounding areas.
It aims to reduce the number of older people having falls in their homes by offering free home visits to discuss safety concerns and highlight potential hazards around the home.
The service is available to anyone in the Cheshire West and Chester area who is over 65 and has had a fall or is concerned about falling.
Health and social care agencies, voluntary organisations, carers, relatives, friends and neighbours can refer someone to the service or, of course, individuals can contact it directly.
The Falls Prevention Service also offers talks to local organisations to promote the service and provide information and safety advice.
Tracy Etherington, Falls Prevention Co-ordinator for Age UK Cheshire commented: "We wanted to thank Mr Blease for helping support with the publicity for Falls Prevention. The pen was made by our very own Men in Sheds Service. The 'Sheds' are places where men over the age of 50 come together to enjoy some camaraderie with like-minded people, and take part in activities such as woodworking, metalworking, art and computers – it is almost like a youth club for the over 50's!
As Mr Blease used to visit Men in Sheds, we thought he might appreciate the gesture."
For more information on the Falls Prevention Service, please contact 01606 884446 (Northwich) or 0151 348 5495/6 (Ellesmere Port) and for more information on Men in Sheds, please contact 01606 884924
Watch this space for the opening of the new Men in Sheds shed in Winsford!