Manchester United choose older mascots to highlight loneliness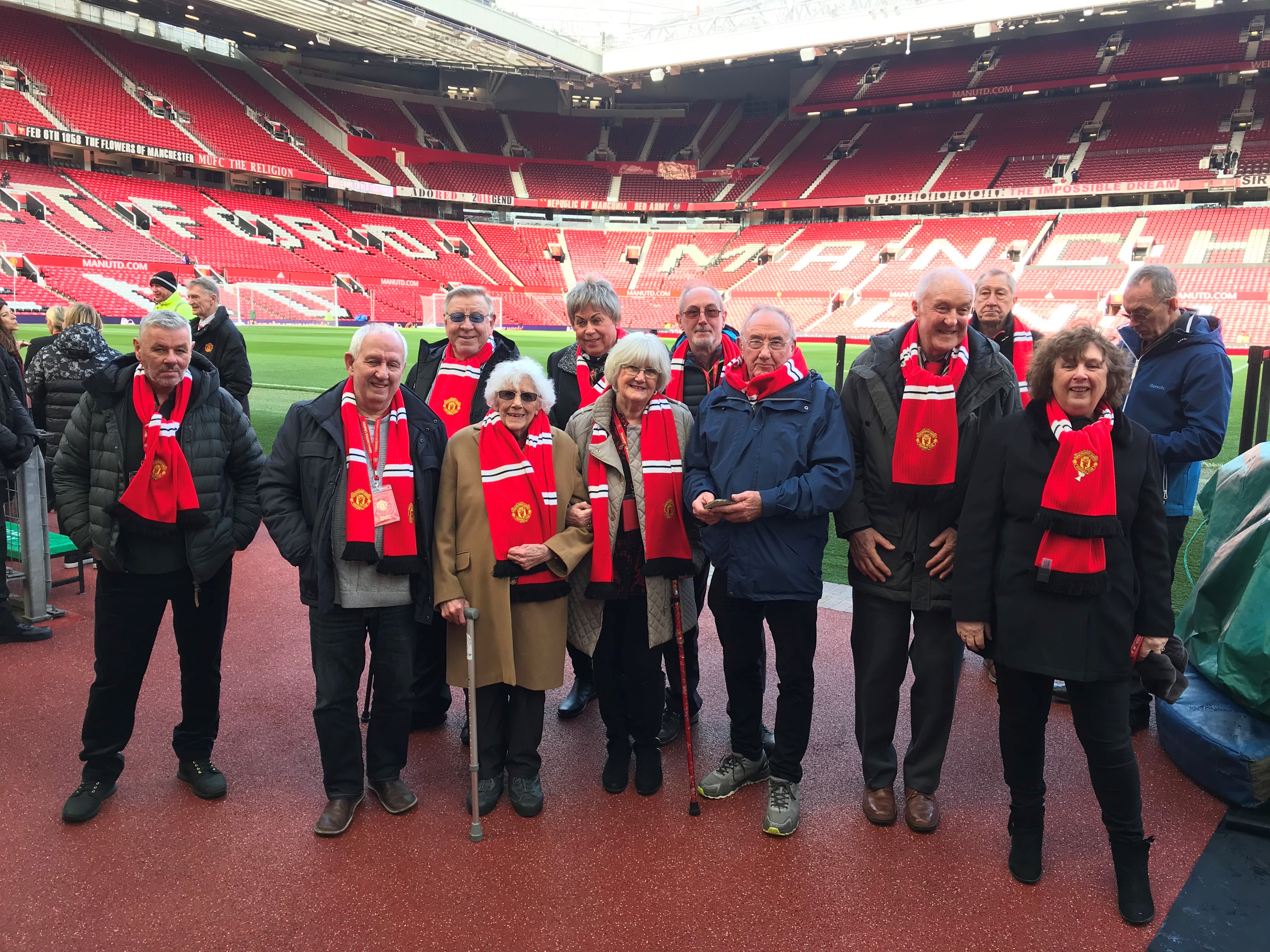 Published on 04 March 2020 10:13 AM
Lifelong Manchester United fans from Age UK Cheshire took to the pitch with the players in last week's game to help raise awareness of loneliness in later life.
Following on from the success of Cadbury Dairy Milk's Donate Your Words campaign with Age UK, which launched last year, Manchester United have come on board to lend their support and help raise awareness of loneliness in later life.
In support of the Donate Your Words campaign 11 'Guests of Honour' from local charities, including Age UK Cheshire, Age UK Manchester, Age UK Oldham and Age UK Trafford, stood on the iconic Old Trafford pitch in front of a crowd of 75,000 and shook hands with Manchester United's first team ahead of their match against Watford.
Each guest of honour, aged from 61-87, attends or volunteers at a local Age UK charity in Greater Manchester and Cheshire. The services they are involved with range from walking football and Men in Sheds to memory support sessions.
The campaign serves as a reminder of the issue of loneliness which affects hundreds of thousands of older people living within Britain's communities, and aims to inspire people to 'Donate Your Words' by having a conversation with an older person.
The campaign comes following recent research, conducted by Cadbury and Age UK, which revealed that in a typical week, almost 2.6 million people aged 65 and over speak to three or fewer people they know, with more than 225,000 often going a week without speaking to anyone at all.
The survey found that simple, small gestures can play a part in helping to tackle loneliness as over 6 million older people claimed a few minutes of conversation would make a huge difference to their week. Older people said they would feel more confident when outside the home if someone smiles or says hello when at a bus stop or in a queue, or if someone asks how their day has gone.
Ian Pye, one of the guests of honour from Age UK Cheshire's Walking Football group, commented:
"I had a fabulous day at Old Trafford. Manchester United treated us with the utmost respect and courtesy. I was interviewed twice, once by Cadbury's and again in the player's tunnel. We met former United greats Lou Macari, Arthur Albiston, Brian Robson and Gary Pallister who were wonderful to talk to. No edge whatsoever on them. Stepping onto the hallowed turf was a memory I will treasure and meeting the United team, likewise.
Many thanks to Age UK and Age UK Cheshire for arranging this for me. My brother was my guest and he plays Walking Football with me at Moss Farm in Northwich too. We are United fans who go back to the Busby Babes in our support having seen the great Duncan Edwards play at Old Trafford.
Age UK Cheshire does wonderful work on behalf of the elderly and at Moss Farm we like to think that we embrace their same ethos of friendship and support to the elderly, some of whom might be lonely and a bit neglected.
Roy Leigh, another guest of honour from Age UK Cheshire's Walking Football group, added:
"I felt very privileged, Age UK, Manchester United and Cadburys made us all feel very special. Obviously the highlight was being able to welcome the players on the pitch, but I must say that I was treated with care and respect all day. Despite being in my 60s I try and do my bit by helping those older than me. Since beginning to play walking football I have noted that the social side is just as important (if not more) than the competitive football! Age UK Cheshire has shown me this and brought it home to me."
Dale Maskell, Chief Executive Officer at Age UK Cheshire said:
"We're thrilled to support the Donate Your Words campaign, which is helping to tackle loneliness and isolation amongst older people.
"The guests of honour had a great time meeting the players and heading out on the pitch, it's a once in a lifetime moment and as huge fans it means so much to them! We hope anyone who saw the match is inspired to reach out to an older person they know who might need their help – even if it's just saying hello at the bus stop, checking in on a neighbour during the cold weather or talking to Age UK Cheshire about how they can help."
Age UK Cheshire provides a range of care and support services to empower and enable older people to continue to live full and active lives, to participate in community activity, and to remain in good mental and physical health for as long as possible.
For more information about the Donate Your Words campaign visit www.ageuk.org.uk/donateyourwords.