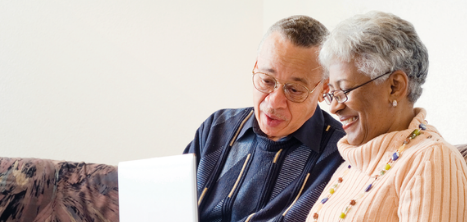 Age UK Cheshire
Barbers Lane
Northwich
CW8 1DT
United Kingdom
This service is delivered in Northwich, Crewe, Sandbach, Nantwich and surrounding areas. Support can be accessed via one of our Connect sessions in Nantwich and Northwich or by arranging a home visit.

We can help you to get connected, stay safe online, explore loan schemes and devices to suit you, support you and how the internet can be accessed as inexpensively as possible. We can also provide support with a range of digital devices in your home, including home hubs, Smart TV's, doorbells.
Do you need more digital confidence?
Despite the wide popularity of the internet and 'smart devices', the thought of getting online can seem daunting - but it doesn't have to be!

We know there are several reasons why some people don't go online:

• They don't think it's for them.
• They don't think it's safe.
• They don't have support or have the correct kit.
• They think it's too complicated.
• It's just too expensive.

If this is you, you're not alone! We can help you understand how useful the internet can be. We can help you stay safe online, loan you an iPad if needed, support you and explore how the internet can be accessed as inexpensively as possible.
What we can offer
Our trained team are here to help show you lots of different ways that the internet is useful and help you stay connected with the world. We can help you learn the basics of your gadget (phone, PC, laptop, tablet), or give you the confidence to use it and help you take your first steps online or even just show you how easy and safe it is to shop online.

Our FREE digital support sessions, in Northwich and Nantwich, provide friendly support in a relaxing environment where you can get the right information and assistance for you.

If this sounds like something you'd be interested in, please get in touch with Amy on 01606 720 431 or by emailing amy.jones@ageukcheshire.org.uk and we can discuss with you how best to help.

On the other hand, if you have an hour or so to spare each week and you're confident in your digital skills, why not share your skills and join our community of digital volunteers helping people across Cheshire to get online. Call Hazel on 01606 305 015 or email volunteering@ageukcheshire.org.uk to hear how you can get involved.
Connect Northwich Schedule
Venue: Changing Lives Together, The Very Green Grocer (Northwich Food Hub / Bank), The Old School House, 7 Manchester Road, Northwich CW9 5LY

2023 Dates: Wednesday 6th December and Thursday 14th December

2024 moving to once a month the 2nd Wednesday of the month

2024 Dates are: Wednesday 10th January, Wednesday 14th February, Wednesday 13th March, Wednesday 10th April

Time: 10am to midday

*Coffee and Tea available to purchase
Connect Nantwich Schedule
Venue: Nantwich Methodist Church, Hospital Street, Nantwich CW5 5RP

Date: Wednesday 20th December

Time: 2pm to 4pm

*Coffee and Tea available to purchase
Connect Crewe Schedule
Venue: Goddard Court, Goddard Road, Crewe, CW1 3BD. This is a retirement housing complex but the sessions will be open to residents and non-residents.

Dates: Tuesday, the 21st of November and every third Tuesday of the month.

Time: 10am to 12pm, in the lounge area of Goddard Court.