'Happy Voices' - is in full voice
Published on 30 August 2018 12:11 PM
Happy Voices for Those Living With Dementia and Memory Loss
A singing group for those with dementia will be re-launching on Friday 31 August. 'Happy Voices' will be held at Newquay Day Centre (Age UK Cornwall) every Friday, from 10 am to 12 pm. The group is a community-led project between Cornwall Partnership NHS Foundation Trust (CFT), Age UK Cornwall and Newquay Towan Blystra Lions.

Set up by CFT's Sinead Kerr, who is a Primary Care Dementia Practitioner for the Newquay area, Happy Voices invites anyone with dementia/memory loss and any carer, friend, or family member to come along. They ask that those attending pay a small fee of £2 to contribute towards room hire and refreshments. The power of music, especially singing, to unlock memories and kick-start the brain's grey matter is an increasingly key feature of dementia care and is said to reach parts of the damaged brain in ways other forms of communication cannot.
Happy Voices hopes that by involving those living with and alongside dementia in social singing sessions will help to combat loneliness, boost confidence, self-esteem and, quality of life.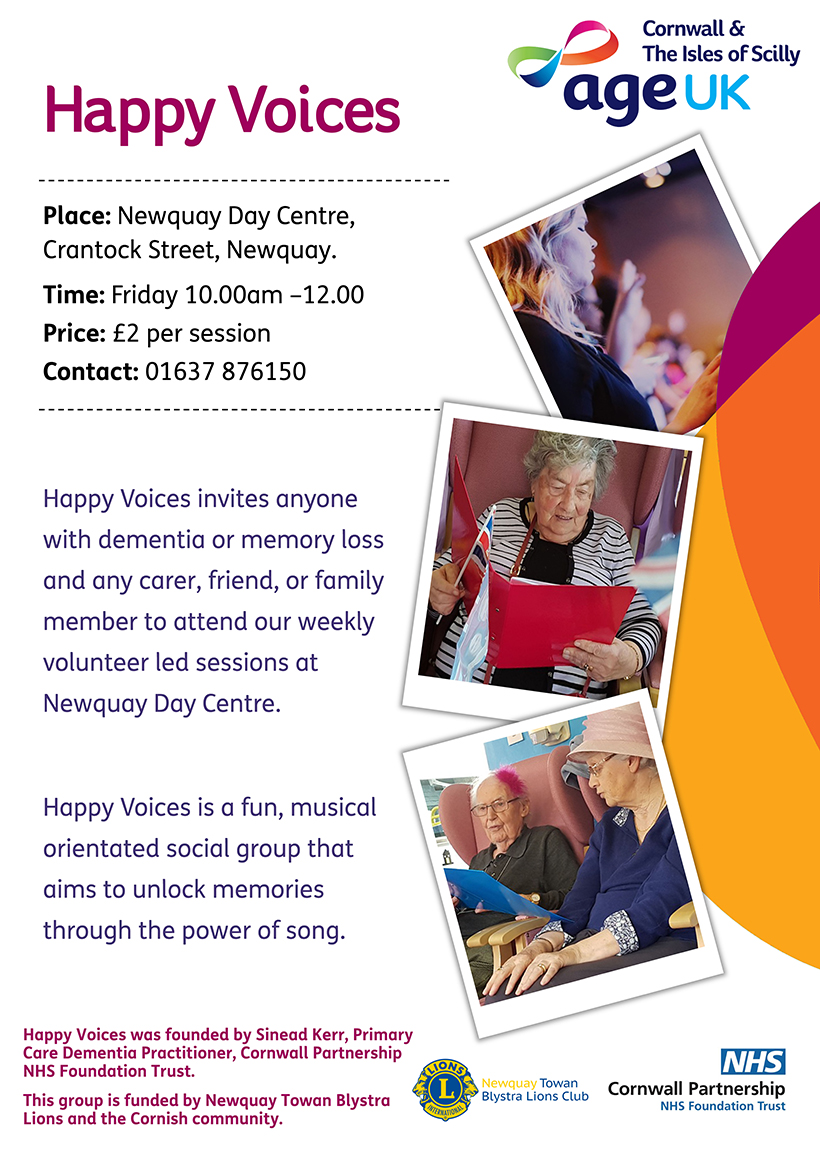 "I set the group up after seeing Plymouth's 'Singing for the Brain' group perform last year. At the performance I heard all about the amazing benefits of singing for those with dementia and wanted to recreate this opportunity for my own clients" commented Sinead.
Working collaboratively with Age UK Cornwall's Newquay Day Centre and the Newquay Towan Blystra Lions, Sinead was able to initially pay for a specifically trained singer to lead and run the group.
"Unfortunately it has been difficult to rely on constant funding, but I have been fortunate that volunteers from Newquay Towan Blystra Lions have been keen to get involved and learn from the paid singer so that they can take over. All volunteers are registered with Age UK Cornwall and are DBS checked" continued Sinead.
Donna Smokvina from Age UK's Newquay Day Centre commented "When Sinead asked me if she could use one of our rooms for the singing group, it was an ideal opportunity to strengthen what we already do as a day centre, as well as encouraging more people in the community to come along and have fun. A lot of people come to the day centre to give their carers a rest, others pop in and out of the various groups we run or for our lunch club".
"The Towan Blystra Lions had a member with dementia who Sinead visited and they were very keen to be involved and help fund the group from the very beginning. It is with their help, the lovely volunteers and Sinead's vision, that the group has now flourished. As a group, they have since named themselves 'Happy Voices' and have an opening and closing song with refreshments provided by the day service in Newquay. There isn't a Friday that goes by without hearing lots of laughter coming from the lounge – it's what we are all about!"
Lynn Bartrip-Kay, who is the Vice President of the Newquay Towan Blystra Lions, commented "we first became aware of the singing group through one of our members who is suffering from dementia. Sinead and her colleague, Matt, attended one of our meetings to give us information about their ideas to establish a singing group and to request funding for the group. Our club members unanimously agreed to donate £600 towards a professional singer to get the group off the ground and to train and oversee volunteers who would be willing to lead the group. We now have three regular volunteers who lead the group, Lion Jill Bunt, Debbie Portman and I. Faye Barber is also a valued volunteer who has assisted in keeping the group running, and her small dog, Jessie, is our mascot!"
"Newquay Towan Blystra Lions are passionate about raising awareness of Dementia. It's an illness that will affect us all at some point and we hope to improve the quality of life for those living with it and their families and carers."
Newquay Towan Blystra Lions will be donating a cheque on the day of Happy Voice's re-launch to support with ongoing running costs and going forward.