Becoming a Volunteer Driver - my story
Published on 21 February 2020 11:22 AM
My Story | Becoming a Volunteer Driver
I started volunteer driving in 2005, following in my husband's footsteps who had been both H.G.V and P.S.V driver. Unfortunately, after his heart attack and bypass surgery, both elements were taken off his license. Although my husband, could drive a car with no restrictions, it was not enough for him. He decided to apply to TAP Transport as a volunteer driver and after being on the road transporting clients to various venues his sparkle quickly returned.
I was working a seasonal job and looking forward to having a few, relaxing winter months but he had different ideas. My husband bought me a car, complete with sat-nav, and introduced me to the TAP team. It is here that my journey into volunteering began!
We worked together with Tom to find out where I needed to be. I was a slow learner but with help and guidance from fellow drivers, it all came together and I found my path. It was extremely enjoyable, but like all adventures, there was a twist in the tale. My husband became ill again and after a relatively short time, he passed away in the Royal Cornwall Hospital.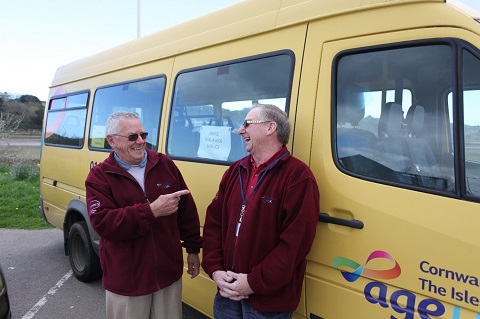 His passing spurred me on to help people in need. The only day I took off was his funeral as I was determined to keep going and help as many individuals as I could. I have transported so many beautiful souls during my volunteering experience with TAP. The passengers have ranged in ages but they share genuine gratefulness for the service we provide.
I continued to work all the hours I could to combat the loneliness of being home alone. Six weeks after my husband's death, I picked up a man to take him to an appointment which turned into a regular occurrence. We enjoyed each other's company from the start but strictly on a professional basis. As autumn turned into winter yet another twist began to form. He told me he had sold his home and would be returning to his home town of York. My reply was: "The girl that lived next door 50 years ago won't be there now" but I wished him the best of luck and we said our goodbyes.
He kept in touch by phone but as I predicted, he found he had very few friends left in York. He called one day in August to say he didn't feel well and that hadn't settled very well. He asked if I could cheer him up and the first thing that came to find was asking him to marry me. He accepted and I drove to York to bring him home to Cornwall. We married the following Valentine's Day.
We continued to volunteer together until the third twist happened. He was diagnosed with dementia and spent 18 months in Bodmin psychiatric ward until he could be placed in a specialist Dementia home in Launceston which is lovely and he is accepting of the fact he stays there.
Although I have reduced my hours of availability considerably I will continue to volunteer as long as I'm needed as TAP work has helped me combat loneliness. If you would like to try volunteering I can recommend it. All you need is a car, a driving licence and a few spare hours a week. I hope to see you on the road soon.
How Can You Volunteer?
If you have some time to spare and would like to volunteer as a TAP driver, please reach out by filling in an application form. You can access this on the Age UK Cornwall website https://www.ageuk.org.uk/cornwall/get-involved/volunteer/volunteer-driver/ or ring and speak to a member of staff on 01872 266383 - they will be happy to guide you through the process.
Volunteer drivers are all provided with the training they need including; legal requirements, driving with passengers with support needs, health & safety awareness, safeguarding and basic first aid.