Age UK Cornwall | COVID-19 Briefing 17.04.20
Published on 19 April 2020 08:36 PM
Please find our latest Age UK Cornwall | COVID-19 weekly briefing - 17.04.20.
Foreward by Tracey Roose (Chief Executive, Age UK Cornwall)
We seem to have settled well into a new "routine" of home working, outreach, telephone and practical support and we are all now fluent in our new language of PPE, shielding, social distancing and isolation.
What seems clear is that this way of working will be with us for some time and will irrevocably change the way we provide services. So, to be able to move forward, we will need to take the best of what our new services look like and adapt and develop for future recovery. The way that we have managed to shift priorities, turn buildings into outreach, work from home, reshape transport services, find supportive communities and move into new roles gives me huge confidence that we will emerge from this experience stronger and with a greater range of choices for older people in our community.
We have again seen some great stats again this week, with increases in the number of welfare calls we have made to people, increases in shopping and hot meal deliveries and increases in the number of patient transport journeys. Thank you again for all of your hard work.
Your Week in Pictures
A huge thank you to everyone who sent their pictures to us. Over the Easter period, we received pictures that showcased your brilliant home-baking skills, wonderful community deliveries and even a battle of wits between tree & man.
Please do keep your pictures coming into lee@ageukcornwall.org.uk - Each week we will create a collage that hopefully spreads a little joy and shines a light on Cornwall and it's amazing people. You can view our latest collage below or alternatively you can view them all on Cornwall Link's support space:
https://cornwall-link.madeopen.co.uk/community-stories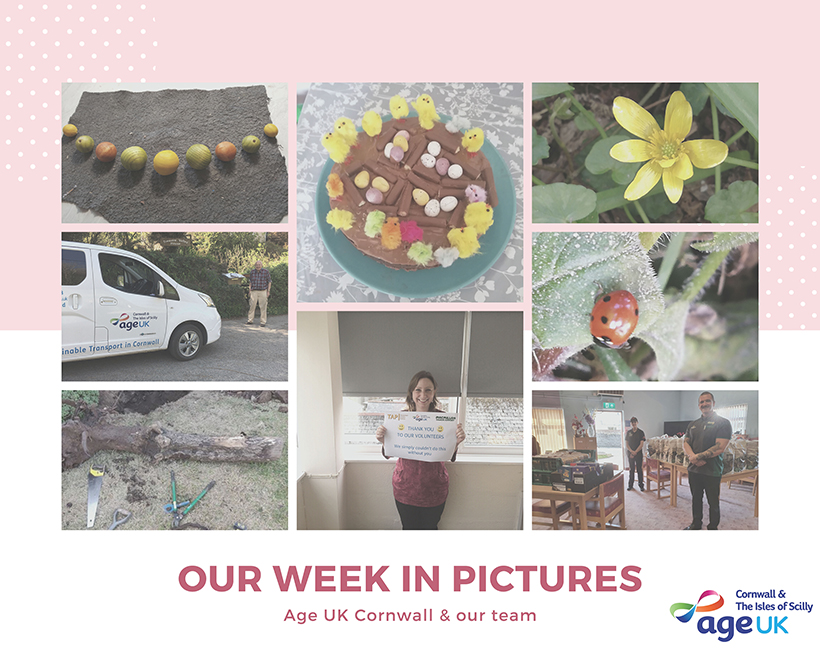 Sharing your Story
We would like to help spread the word about all the incredible, inspirational and life-changing work that you are all doing during these exceptional circumstances. Sharing a story with us can help spread some good news, show what life is like for people right now in the community and also highlight the ways we are all adapting to make sure that we support the people we care about.
We would love to share these stories on our website, social media, Cornwall-Link, and send them to the media to help show the impact you're having and the challenges that you are all overcoming.
We have provided you with a template (attached below) to get you started, which can be sent to lee@ageukcornwall.org.uk – or alternatively you can contact Lee directly if you have any questions.
What you have been saying
Again, we have been inundated with quotes that have made us laugh, smile and shed a tear or two, here are just a few that we received earlier this week -
To our Day Centres - "You are all doing a brilliant job. We couldn't manage without your help. You deserve to be recognised for the excellent work you do."
Regarding our work on Cornwall Link Support Space - "It's nice to see new activities being added each day. Each activity is a show of kindness and an opportunity to help people fulfil basic human needs. Top job Age UK Cornwall team"
To our patient transport team from RCHT - "You are so good to us and ALWAYS go that extra mile. Thank you so much for your support during this crisis"
A thank you to Morrisons Newquay for provided food & amenities - Thank you to the absolutely fabulous team at Morrisons Newquay for their donation of food bags for our clients. I can definitely say they will be well received."
Amazing donations
Age UK Cornwall & the Isles of Scilly are very happy to announce that South West Water staff have kindly offered to support us again this year as one of their adopted charities in the South West. They have donated an incredible £5,625 which will help many people that need our support across Cornwall. We have also been successful in securing £5,000 from the Duchy Charity which will go towards the increased PPE needed for our teams.
If you would like to donate or help support Age UK Cornwall at this difficult time - please visit https://www.ageuk.org.uk/cornwall/get-involved/donate/
Look after yourselves and each other.
Share your community story
Please send this template to lee@ageukcornwall.org.uk to share your story.