Our latest Briefing | Age UK Cornwall 09.04.20
Published on 17 April 2020 02:44 PM
Please find our latest staff and volunteer briefing | Age UK Cornwall 09.04.20 here...
It's pretty much the end of the week for most of us and although our valiant TAP team continue over the weekend, hopefully everyone will take a breath and enjoy some sunshine in whatever way possible.
Over the next few weeks, we understand that we will reach our peak of COVID-19 in Cornwall and so it is really important that you take a break over the next few days because it is very likely that we will be working in this strange environment for a little while yet. Please do continue to look out for your team members, volunteers and colleagues, particularly those at home, isolating or furloughed. Use Microsoft Teams to have a virtual coffee morning or tea break, invite the people you usually see in the office, take time to say hello by phone or email.
We would like to share some headlines for you from this week:
Our achievements:
We thought it might be nice to share with you some of the amazing statistics and activities you have been involved in over the last two weeks:
The Helpline has taken over 1,000 calls, emails and messages
Our Cornwall Link and social media pages have had over 5,500 engagements with 131 new listings from communities responding to COVID-19
Our Inclusion Matters and Information and Advice team have made over 200 welfare calls to clients
We have collectively carried out 254 shopping and medication trips, dropping of vital supplies for those in need
Our 40 amazing volunteer drivers have made 111 hospital trips
Our day centres are delivering 125 meals a week with around 30 shopping trips – over 300 contacts with people over a fortnight
Our gardeners are supporting 30 clients and continuing to provide a vital service when many people are relying on their gardens to provide respite
Be proud of the fantastic work you are involved in and take a look at some of the super comments:
To Becky, following her prescription deliveries from Green Lane Pharmacy this week - "All we can say is thank you so much, without your help and help from everyday heroes we couldn't get much needed medication out to the people that really need it"
To Marlene, our fabulous Day Centre Cook - "Marlene is a marvel. The meal service is fantastically received and enjoyed. What this small team have done to adapt to these extremely testing times has been unbelievable. A memory that will stay with me and proud to have witnessed."
To Newquay Day Centre, following food deliveries - "We really appreciate all your help! – The work you are doing is above and beyond"
A quote from one of our clients receiving a regular Welfare check - "Without you checking on me, I would have become very lonely and felt even more isolated – please keep talking to me "
Our Week in Pictures
A huge thank you to everyone who sent their pictures to us. Please do keep your pictures coming into lee@ageukcornwall.org.uk ​ Each and every week we will create a collage that hopefully spreads a little joy and shines a light on Cornwall. Please find our latest collage attached here or on the Cornwall Link's support space.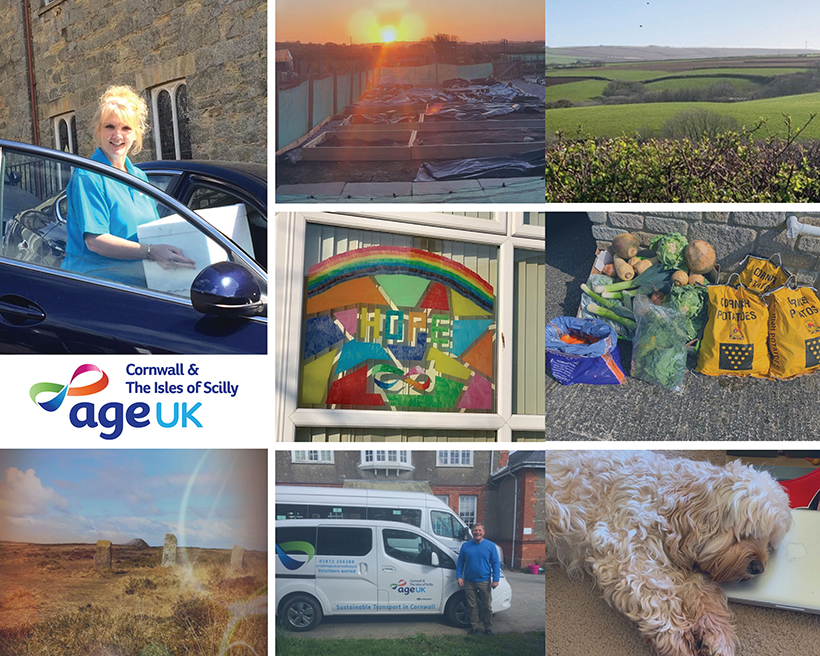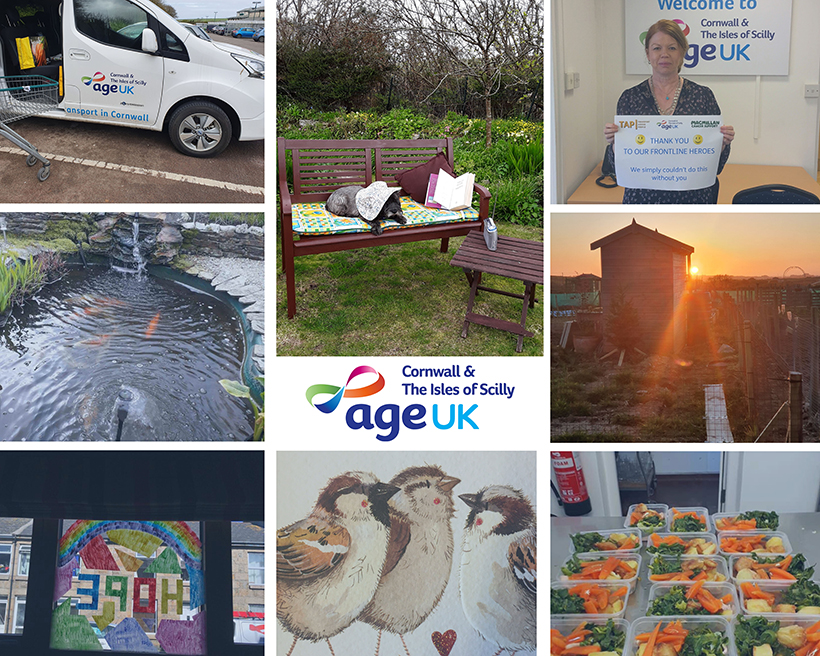 A message from Ann Lewis, our Transport Director:
To all our volunteer drivers and frontline heroes that are supporting Age UK Cornwall & TAP - The work that you are doing is so very vital and continues to help the community, from patient transport across Cornwall & Devon to local food & medication deliveries, we simply couldn't provide any of this without you. Please remember, that If you need more gloves, sanitizer or spray please ring the team in the transport the office
I would like to take this opportunity to say that it is a privilege working with you all and we would like to send a BIG THANK YOU FOR ALL THAT YOU DO. Take care
Best Wishes Ann and all the team.