Our Latest Update | Age UK Cornwall 27.04.20
Published on 01 May 2020 11:14 AM
A staff & volunteer update from Tracey Roose
I have spent much of the week talking to teams and looking at opportunities to bounce forward; managing through the lockdown period, to whatever comes next and readying ourselves for recovery and renewal. We have a rare opportunity to test different ways to support people, different approaches to transport and to our working lives. It is not without its challenge, but I think we all know that life and work are unlikely to go back to how it was pre-Covid-19 anytime soon, if at all. So, we need to explore how we renew and relaunch our services in this new world, still focussed on meeting individual needs but using different approaches that are not so reliant on traditional models.
We are putting together some plans, as you would expect, and will be chatting to you about this over the next few weeks and months.
We also welcome Kelvin Yates to the organisation. Kelvin is the Community Well-Being Manager and will take over the management of the Inclusion Matters and Macmillan Programmes from next Friday; this includes Helpline, Cornwall Link, Community Coach roles and Macmillan roles. Kelvin comes to us from Cornwall Council Adult Care Commissioning Team and has considerable experience in operational delivery, so we intend to make full use of his expertise and development skills. If you are in Boscawen House (Head Office), he will be working from the office a day or so a week but in our new world, will mostly be connecting you to online.
Finally, a quick note on Personal Protective Equipment (PPE). We hear a lot about this in the press, the lack of it, the importance of it, how we might all need to wear it. It is a bit of a moving goalpost at the moment, but the bottom line is we do need PPE to carry out our transport functions and some of our visiting and shopping services. Debbie and Ann have moved mountains to ensure we have sufficient PPE for the next few weeks, but it is expensive. We have a plan to fundraise so please check out the 2.6 challenge, details below. We need your help and ideas to raise the cash for PPE to keep our services on the road and to establish some new ones. If you are unsure if you need to use PPE in your role, please contact Debbie for advice or Ann if it is a driving role.
Our Week in pictures
We would like to thank you and your loved ones for continuing to send pictures and videos to us. This week, we received lots of stunning views from your daily exercise routines and homeschooling experiences; check out the picture of the snacks Tamsin's daughter made as part of her learning about shapes and her visit in the garden to understand minibeasts.
Please do keep your pictures coming into lee@ageukcornwall.org.uk . – they help mark this unique time we find ourselves in and hopefully, make us smile. Here is the latest collage and you can find it on the Cornwall Link here…
https://cornwall-link.co.uk/community-stories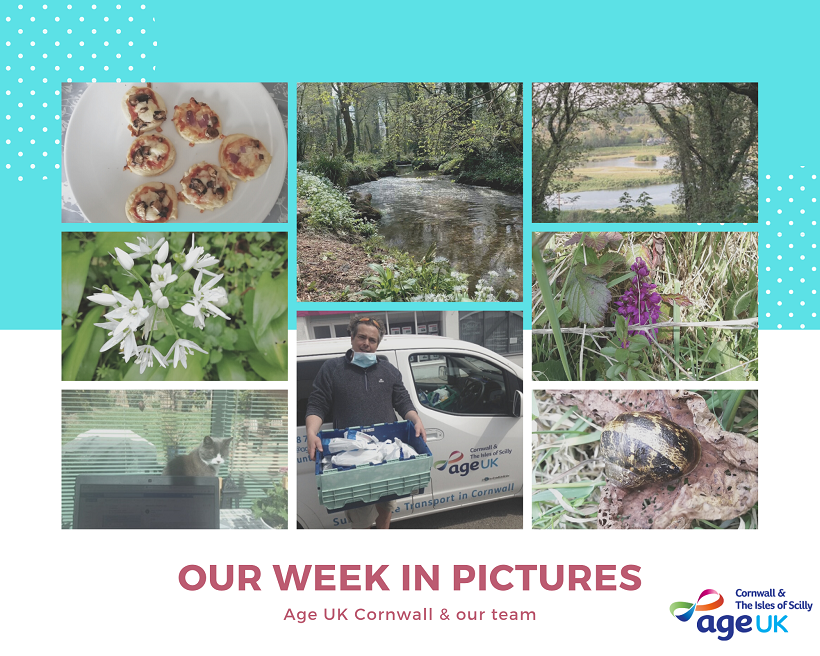 If you haven't visited the Cornwall Link pages recently, I would urge you to do so. There are many people in the organisation collecting information, fact-finding, inputting and designing and all this work is coming together to provide an amazing story and resource for the public, our teams and health and social care colleagues.
Sharing your Story
Thank you so much for sharing your inspirational stories and telling us about your life-changing work. We have received several already and we are busy adapting them for our digital mediums.
We would like to share the first couple of stories with you – click these links below or visit www.cornwall-link.co.uk/community-stories to view all our posts.
Maria's Blog: Celebrating the Food and Shopping Services in Cornwall
https://cornwall-link.co.uk/celebrating-the-food-and-shopping-services-in-cornwall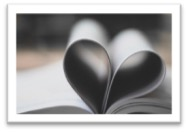 Tillie's Blog: Discover a Love of Books on World Book Night
https://cornwall-link.co.uk/discover-a-love-of-books-on-world-book-night
Please remember, if you have any stories you would like to tell or quotes you would like to share - please email lee@ageukcornwall.org.uk – or alternatively you can contact Lee directly if you have any questions.
Our 2.6 Challenge
Age UK Cornwall & the Isles of Scilly is asking you, loved ones and your friends to join The 2.6 Challenge – starting from Sunday 26 April 2020 and running until Sunday 3rd May 2020.
We are raising funds to pay for the vital PPE we need to continue to deliver our services so please do get involved.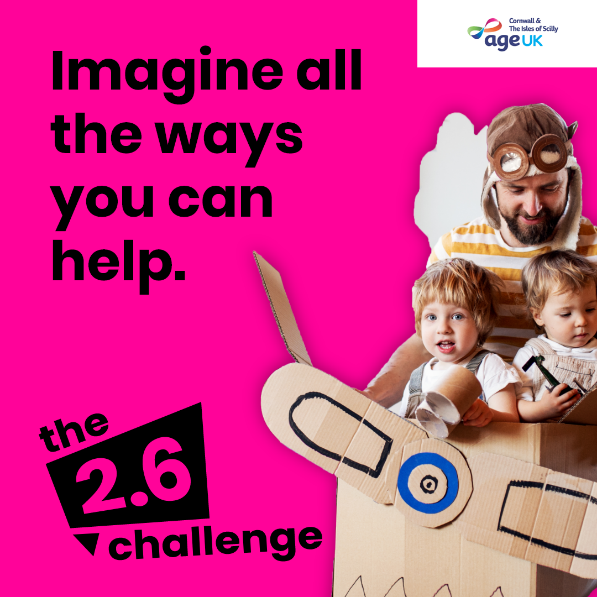 From Sunday 26 April 2020, the challenge is to dream up an activity based around the numbers 2.6 or 26 and fundraise by donating at our Virgin Money Giving page:
https://www.ageuk.org.uk/cornwall/get-involved/donate/
Taking up the 2.6 Challenge can be something as simple as walking or running 2.6 miles, completing 26 press-ups or enjoying 26 minutes walking around the garden. It can be a sponsored activity, or a donation - £2.60 or £26 - whatever is affordable - it all adds up and will make a difference to our services and the people we support across Cornwall.
The 2.6 Challenge, will launch on Sunday 26 April 2020 – what should have been the date of the 40th London Marathon - and will last for a week. The 2.6 Challenge is open to anyone of any age – the only requirement is that the activity must follow the Government guidelines on exercise and social distancing and remember to stay local.