The 2.6 Challenge | Age UK Cornwall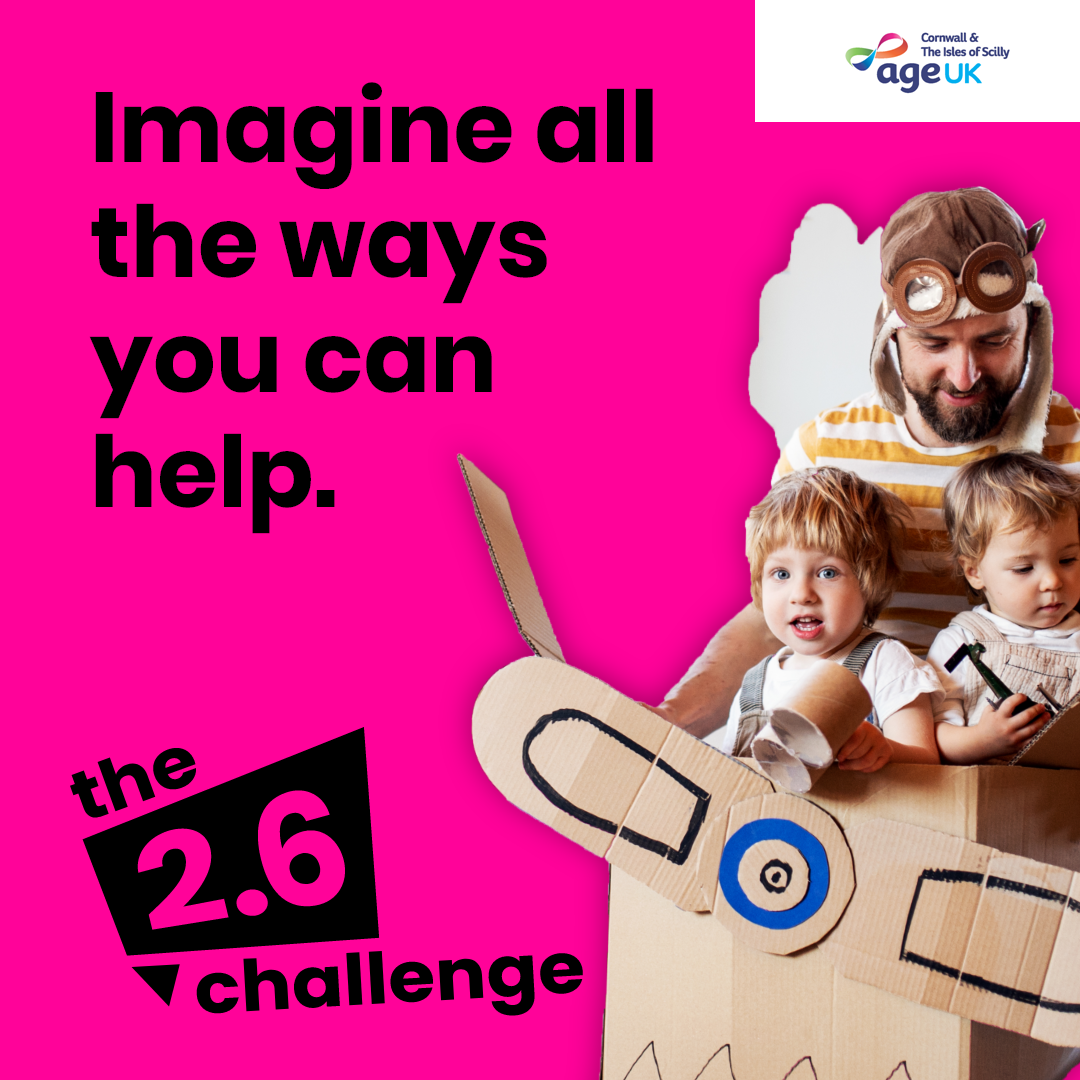 Published on 23 April 2020 08:44 AM
Age UK Cornwall is asking you and your friends to join The 2.6 Challenge from Sunday 26 April 2020 to Sunday 3rd May 2020
The UK's charities need your help!
The COVID-19 pandemic has had a catastrophic effect with the cancellation of thousands of events and the loss of billions in income through fundraising events.
The Virgin Money London Marathon alone, which should have taken place on Sunday 26 April, is the world's biggest one-day fundraising event, which raised more than £66.4 million for thousands of charities in 2019.
As it cannot take place as planned, its organisers have created a "lockdown-friendly event" which is easy for anyone to join in and make a difference, especially for smaller local charities. Every small "event" can add up to something worthwhile.
Get Involved and have fun
From Sunday 26 April 2020, the challenge is to dream up an activity based around the numbers 2.6 or 26 and fundraise by donating on our Virgin Money Giving page:
Taking up the 2.6 Challenge can be something as simple as walking or running 2.6 miles - or completing 26 press-ups or 26 minutes walking around the garden. it can be a sponsored activity, or a donation - £2.60 or £26 - whatever is affordable - it all adds up and will make a difference to our services and the people we support across Cornwall.
The 2.6 Challenge, will launch on Sunday 26 April 2020 – what should have been the date of the 40th London Marathon - and will last for a week. The 2.6 Challenge is open to anyone of any age – the only requirement is that the activity must follow the Government guidelines on exercise and social distancing and remember to stay local.
Age UK Cornwall & The Isles of Scilly are raising funds for the purchase of PPE (Personal Protective Equipment) to support the most isolated and vulnerable individuals across Cornwall.
For more information on The 2.6 Challenge, visit twopointsixchallenge.co.uk