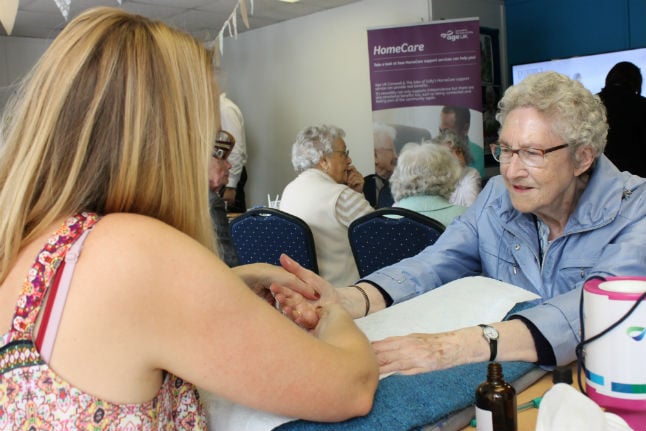 Did you know, that we have two purpose built training rooms at Boscawen House, Truro.
We can offer, nationally, a specialist cultural change programme and provide local "train the trainer" navigator programmes in partnership with GP practices.
If you would like to find out more, click on our training links below.
Training Room Hire
At our centrally located offices in Truro, we have two purpose built training/conference rooms available for hire. Our rooms are available Monday to Friday between 0900-1700, and can be hired from 1 hour to multiple days.
If you would like to discuss times or dates outside of this window, or have any questions, please contact either Lee Davies or Helyn Jacobs on email@ageukcornwall.org.uk.
Our full booking form, terms and conditions and Training Centre Venue Information can be found on the more information bullet points below.
Venue 1
Please click on this download to view our Main training room details.
Venue 2
Please click on this download to view our top floor training room details.
How to book our training room?
Please click on this link to book our training room, you can also contact Lee Davies or Helyn Jacobs for more information & booking queries.
Cultural Change Training Programme
This modular programme has been developed by capturing the experiences, learning and best practice, from the people on the Living Well journey in Cornwall. It has therefore all been tried, tested, adjusted and has grown over the last 3 years. Our focus is on the person and what matters to them, this is what drives service development and therefore all the training.
The team consists of Age UK Cornwall & The Isles of Scilly staff, GPs, consultants, volunteers and clinical managers. This enables us to offer expertise across the whole sector, from front line practitioners to strategic leaders. We pride ourselves that we come from a practical perspective, not a theoretical, model based approach. This leads to a smaller knowledge transfer gap, which supports the practitioner to apply the learning readily into practice.
We will talk to you extensively prior to any training provision, in order to tailor your training to your local requirements and make sure we meet your outcomes. We can offer most modules at a taster / awareness level, or in more depth, often with practical participation to solidify the learning.
For those of you who require a more tailored approach, we can offer consultancy and mentoring.
To find out more regarding our Cultural Change Programme please contact email@ageukcornwall.org.uk or speak to Lee Davies (Marketing & Communications Advisor) or Tracey Roose (Chief Executive)