Harriet Gibbon (1958—2019)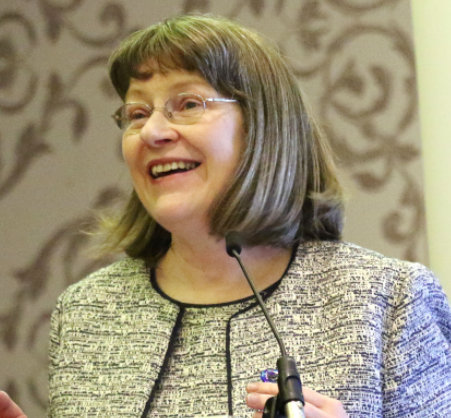 This is the story of a very special woman who has made a difference to thousands of older people in County Durham over the past 23 years.
Harriet first became involved with us as a volunteer finance officer in 1996. She soon became a highly valued and admired employee, supporting colleagues in their work and management in decision making and informing strategic direction. Harriet was passionate about improving the lives of older people, particularly those who are vulnerable and suffering poverty.
In 2000 Harriet became our Chief Executive Officer worked hard to build a strong team of employees and volunteers and a skilled, trained and highly informed Board of Trustees.
Harriet was a tireless champion for older people and the impact of all aspects of poverty that lead to vulnerability and poor health and wellbeing. She always went the extra mile to give everything to develop services that really make a difference to people's lives. She never rested on her laurels and never looked for reward or glory. She cared passionately about making life better for older people and worked very hard to achieve this.
Her achievements include:
Improved income/fundraising to establish firm foundation for Age UK County Durham
Academic consultations disseminated nationally and informed policy in County Durham.
Establishing quality marks which include Investors in People, Advice Quality Standards, ISO 9001:2008 and ISO 9001:2015, Intergenerational Approved Provider, Mentor and Befriending Approved Provider and Age UK Organisational Quality Standards
Ground breaking innovative projects that really make a difference to older people
During this time, the organisation has received local and national awards:
One Awards Accrediting Body for training in 2011 and 2014
National Lottery Award 2014 - Come Eat Together won Best Health Project 2014 in the National Lottery Awards
Durham County Council 'Projects Without Equal' in 2019: for Beat the Scammers and the Intergenerational Programme
Harriet was respected by professionals across the region. She was one of the longest serving Chief Executive Officers as an Age UK Brand Partner and was known as a wise and trusted colleague by many.
Harriet will be remembered for transforming, extending and sustaining services to improve lives for a wide range of older people throughout County Durham.
She will be greatly missed.