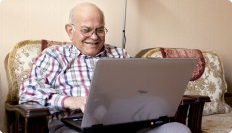 Are you over 50 and living in Coventry? Have people told you that there are benefits and services you might be entitled to? Are you unsure what these are or how you can get them?

We can help to point you in the right direction.
We know that you want to stay as independent as possible and to enjoy a good quality of life.
Contact and Connect will talk with you about your needs and concerns and discuss what help you would like to receive. We will then provide information and make referrals on your behalf to a whole host of local services that can improve things for you.
Local services include:
a benefit entitlement check and help to make a claim
fire safety and smoke alarms
home security and safety
home maintenance and repairs
hand rails and other aids
Coventry City Council services
carer support
falls safety check
help with heating
help with housing issues
other Age UK Coventry services
A trained volunteer or worker will talk with you and complete a contact form, either during a phone call or in your own home.
This gives us the information we need about you, along with your consent, to contact our partner services on your behalf and connect you with them.
Contact and Connect works well because it is built on a strong partnership with local people.
Contact and Connect's partners are:
West Midlands Fire Service
Age UK Coventry
Coventry Local Pension Service
NHS Coventry, Coventry
Coventry City Council
Orbit Care and Repair
Coventry Carers' Centre
Whitefriars
Coventry and Warwickshire Community Safety Scheme
How much does it cost?
Contact and Connect is free of charge and most of the services that we link you to are also free.
If you would like information about a service or product that is not free, for example, a reputable plumber or cleaner, we will provide you with all the details. You will not be obliged in any way to take up the service.
Trusting us to help you
Our help is free, confidential and independent. Other information is used to make sure that we offer a good, reliable service. No information is passed to anyone else without your consent.
Contact and Connect makes referrals to other services and these referrals are then subject to each agency's eligibility criteria.
Get in touch with Contact and Connect
Please note that you are only able to make contact with the Contact and Connect service by telephone or email.
Phone: 024 7625 8176
Email: contactandconnect@ageukcoventry.org.uk