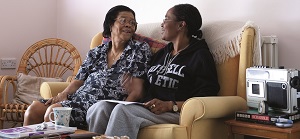 As an outreach volunteer you could help the I&A service support older people to claim Attendance Allowance, which will help them live independently.
What do outreach workers do?
The Information and Advice (I&A) service provides information and advice to the older people on matters such as welfare benefits, health and social care, housing and local services.
Helping older people to claim Attendance Allowance is one of the most important functions of an Age UK I&A service. Attendance Allowance is the benefit that can be claimed by older people with health problems who require support and care at home to be able to remain living independently. The form is quite lengthy and to fill it in well you need a thorough understanding of how the benefit works.
What you will get out of it
It's a great way to make a real difference to someone's life
You'll be giving something to your community
Volunteers tell us they find volunteering really rewarding
What is expected of me?
Interviewing older people and their carers or family about their health and care needs.
Completing Attendance Allowance claim forms for clients.