Feeling Good and Keeping well
Keeping active is important for staying healthy in later life. It can also improve your confidence and outlook on life.
Call us on 024 7667 4397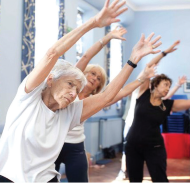 Whatever your current level of mobility, fitness or health we have a suitable activity to help you keep 'Fit as a Fiddle'.
Physical Exercise Classes
Our city wide groups and classes are designed to be fun and sociable. Sessions include seated exercise, tai chi, walking football, line dancing, bowling for fun, gardening and lots more, at a range of over 20 venues citywide.
All classes are led by a qualified instructor who understands the needs of people in later life. Most groups are supported by a friendly volunteer who will welcome you and help you get to know other people in the group.
Its never too late to think about getting active, even if you haven't done any exercise before.
Class Timetable to download. The cost of each session varies between £1.50 - £4..50.
Map showing Physical Activity classes in your area

Contact
To find out more, join a class, or to help us, please contact the Physical Activity Team using the details below.
Phone: 024 7643 3977