Free Legal & Will Clinics (Coventry)
Please note that the clinics are currently suspended owing to the coronavirus pandemic. However, free initial consultations are available via telephone and video link.
Follow the links below to the solicitors and advise them of the Age UK connection when making contact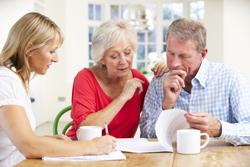 We have entered into agreements with two local solicitors, as our preferred partners, to provide free legal advice and wills clinics to our clients, held at our offices in Alwyn House, 7 Warwick Row, Coventry. Initial advice is free of charge and our partners' solicitors will be clear with you as to the cost if you decide to proceed.
We hold clinics with regard to general legal matters such as contractual issues, probate, inheritance disputes, immigration, employment and personal injury.
We hold separate clinics dealing with issues relating to Wills and inheritance.

Contact Us:
Tel: 024 7623 1999.
Email: info@ageukcovwarks.org.uk
Visit our solicitors' pages by clicking on their name below: