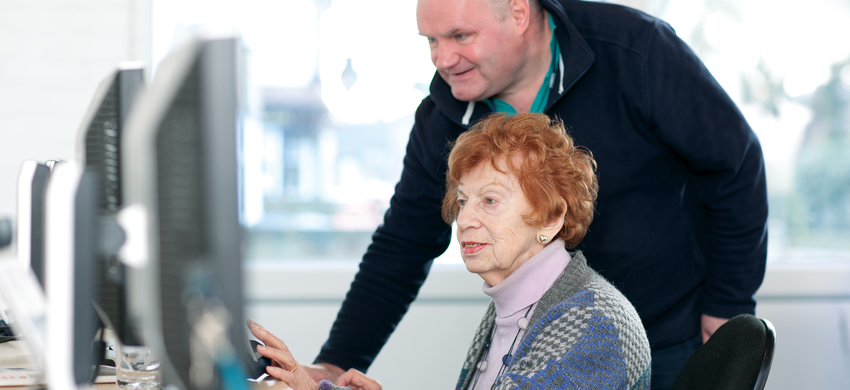 Age Cymru Gwent relies on volunteers to help us offer vital services in the local community. Would you like to lend a hand?
Volunteering roles with Age Cymru Gwent
Robins Service – Volunteering Opportunity

Age Cymru Gwent's Robins Service are pleased to announce new and exciting volunteering opportunities for Ward Volunteers in Newport and Abergavenny.

We urgently need volunteers that will support patients with completing menus, assisting with feeding, shopping within the hospital, keeping patients company, etc. For more information or to get involved with these exciting opportunities, please direct your interest to the contact in the relevant area;

Newport, Royal Gwent Hospital & St Woolos
Tarek Samad, Manager Robins Hospital Volunteer Service
tel: 01633 234 129
email: robins@agecymrugwent.org

Abergavenny, Neville Hall Hospital
Lindsey Davies, Team Leader Monmouthshire Community Services
tel: 01291 673 300
email: l.davies@agecymrugwent.org

Monmouthshire Clubs - Volunteering

Do you have a few hours a week to spare, to help out with our lunch and locality clubs? The clubs operate on a daily basis across Monmouthshire.

Helping to serve meals or refreshments, wash-up, chat with the service users or take part in activities such as quizzes, board games, exercise.

Ideally you'll have some experience of working with vulnerable older people but enthusiasm and a sense of empathy is much more important.

If you are interested please give Lindsey a call on 01291 673300 or e-mail l.davies@agecymrugwent.org

Information and Advice Service – Volunteering Opportunity

Would you be interested in volunteering for our Information and Advice Service, based in our busy Newport office. We are looking for volunteers who can provide support to this service by dealing with basic telephone enquiries, taking referrals for the service and entering information on our computerised system.

If you are interested in finding out more please contact Gail Gordon s.mapstone@agecymrugwent.org
Older Persons Integrated Care Pathway - Volunteering

Volunteers with this service work with patients in their own homes, providing compassionate practical and emotional support as part of a Staying Well Plan agreed with the patient and their family. You'll encourage the patient to feel positive perhaps by helping with an old hobby. You will need to be willing to work alone with the service user so some experience of working with older people will be desirable.

If you are interested please give us a call on 01633 240198

Digital Inclusion Project - Volunteering

Do you live in the Newport or Monmouthshire area and have some time to spare?

We are looking for volunteers with knowledge of using iPads, iPhones, or tablets to help show the over 50's how to connect to the digital world.

For more details phone 01633 240198 or email digital@agecymrugwent.org
Why volunteer?
Volunteering is a great way to meet new people, learn new skills, and support the work we do in the community.
Who can volunteer?
Almost anyone can be a volunteer. We have a wide range of roles which suit different people and different skills.
How much time do I need to give?
It depends on the volunteer role you are interested in. Some people give an hour a week, other people do more.
What else you can do to support us
Take part in a fundraiser

Could you help us to raise vital funds by taking part in a fundraising event? We have regular events such as sponsored walks, but you could also do your own fundraiser like a cake sale.

Get your colleagues involved

Could you talk to your colleagues or your employer about how you can support us? We have lots of ideas for how organisations can get involved, including sponsoring an event, making us Charity of the Year, or donating equipment.