Choices - home support and nail cutting
Choices - Home Support Service 50+
Working Together to help you when it matters most!
Telephone: 01495 360159 / Email: choices@agecymrugwent.org
We provide quality, person-centred home support services and promote independence and security with your own home. Services are available within Blaenau Gwent, Caerphilly and Newport and are charged at a competitive rate.
Coming soon…Gift Vouchers!
Currently, Choices provides the following home support services:
Domestic Cleaning - £15.50 p/h
(Inclusive of: ironing, bed changing, laundry and deep spring cleans)
Shopping - £15.50 p/h
Assisted Shopping - £15.50 p/h (plus mileage fee)
Chaperone - £18.00 p/h (plus mileage fee)
Handyman Service - £22.00 p/h and decorating based on individual quote
(Inclusive of: all aspects of garden maintenance, power washing, spring and winter ready sessions, low-level indoor home improvements and painting and decorating)
Alongside our chargeable services, we also provide free Security checks and Fire Safety Checks, working in partnership with South Wales Fire and Rescue. During these checks, where appropriate, we are able to provide and install various fire safety measures such as; smoke and heat alarms, as well as hard of hearing alarms, to ensure for early detection for those most vulnerable and at risk.
Before support commences, the Team Leader/Handyman will complete an assessment of individual needs and establish a person-centred support plan which will be reviewed annually. A free basic financial check can also be completed if required to ensure correct benefits are in place to fund support.
Happy Feet - Toe Nail Cutting Service
Putting your best foot forward!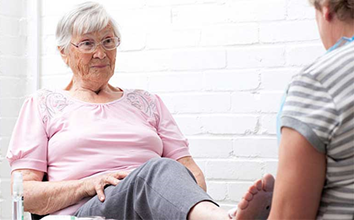 Unkempt nails can contribute to an increase in falls, we offer a basic toenail cutting service in partnership with Aneurin Bevan Health Board Podiatry Service which is safe and accessible to help prevent this. The service is available to those aged 50+, who meet our low level criteria.
Anyone wishing to use the services will be required to obtain written approval via a form we will send you from their GP or another clinically qualified health care professional such as; nurses or members of the podiatry service.
Our foot care assistants have all attended foot care awareness sessions from Aneurin Bevan Health Board Podiatry Service and follow the guidelines of the Society of Chiropodists and Podiatrists.
As the service is neither directly provided nor funded by the NHS, it is charged at the following competitive rate £20.50 (first appointment) plus £5.00 intial registration fee and £15.50 (reoccurring appointments). The service is available by appointment only at the following venue:
ACG Crumlin office, Crumlin Square, Crumlin
We made 2122 feet happy last year (April 18 – March 19), you only get one pair, so let Choices help you remain comfortable, mobile and independent on your feet!

Any surplus income from Choices is used to support the work of the charity with older people.