Age Cymru Gwynedd a Môn is working closely with various key partners to ensure that opportunities exist for individuals to become more digitially inclusive and more computer literate.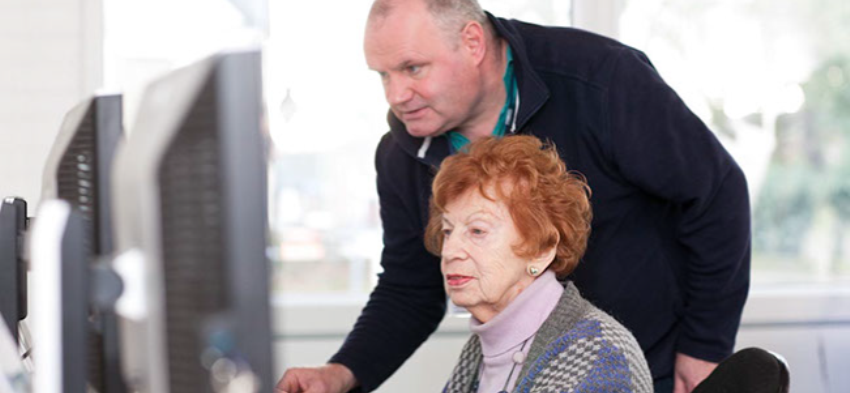 These opportunities can range from the provision of one off tutorials to the provision of classes which run over a number of weeks. Age Cymru Gwynedd a Môn also has a laptop loan scheme. These initiatives enable people to become more confident when using computers, laptops, tablets and smartphones.
Are there classes I can attend?
Various classes take place in the community, be these one off sessions or classes running over a set number of weeks. Such courses are held for example in local libraries and also within the Age Cymru Gwynedd a Môn Age Well Centres. Please contact us for more information.
Does it matter how much, or how little I know?
No, we can arrange or signpost you to training opportunities that meet your needs.
I don't own a computer, does this matter?
No, Age Cymru Gwynedd a Môn has a laptop loan scheme where you can borrow one of our laptops for up to 4 weeks. The aim of the laptop loan is to give older people confidence using a laptop before purchasing a laptop of their own.
Would you like to become a local Digital Volunteer or Digital Champion?
Both the Digital Communities Wales initiative run by the Wales Co-operative Centre on behalf of the Welsh Government and Gwynedd Council's Digitial Resilience project is seeking local Digital Volunteers or Digital Champions. Full training would be provided to any interested individuals by the relevant organisation.
Please contact us for more information.
Contact us
Email: info@acgm.co.uk
Telephone: 01286 677711