Connecting communities & increasing wellbeing.
Our Connected Generation project reduces loneliness by connecting older people to their local Powys community.
Connected Generation
End of project Celebration & Learning Event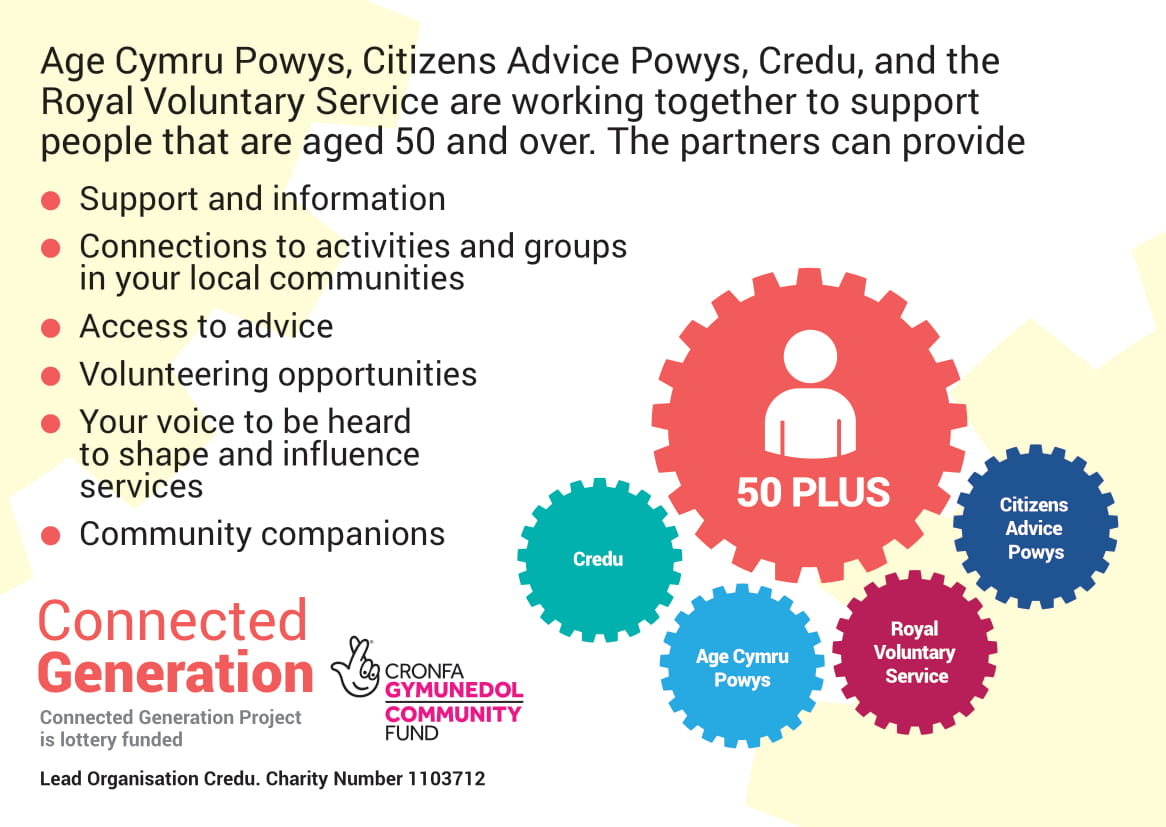 Together… with people over 50 in Powys
Age Cymru Powys, Credu, Citizens Advice Powys, and the Royal Voluntary Service are working together to support people over 50 to build on their strengths and enjoy a greater sense of wellbeing. Together we will listen and learn what matters to people's lives to shape and influence services.
The Connected Generation project is committed to working with people with the aims that they will:
Feel more connected to other people and less socially isolated.


Feel more able to shape the services that impact on their lives and feel more listened to, valued and respected in their relationships with services that matter to them.


Feel that information, advice and support is more coherent and enable them to make informed choices.
The project partners will support individual people, communities and groups and together provide a strategic voice.


Find out more…
Contact the Connected Generation Project Manager:
Email: info@credu.cymru
Telephone: 01597 823 800
Visit: www.credu.cymru
Visit: www.powyscitizensadvice.org.uk
Visit: www.royalvoluntaryservice.org.uk/services/2673-community+companions
Or you can contact Age Cymru Powys on 01597 825 908 / 01686 623 707.

Why not come along to one of our 50+ forums and have your say on issues and decisions that affect you and your local community?