More and more people are taking trips down memory lane these days, delighting in reminiscing about their childhood homes, foods or hobbies. And it's not just an indulgence to re-live the old days, it's actually proven to help people experiencing the early stages of dementia or memory loss.
"Memory Lane is really an essential service... Without these meetings, people like me would be sitting at home, totally isolated. It's lovely coming here every week."
Memory Lane groups
Age UK Derby & Derbyshire have set up five 'Memory Lane' groups, thanks to generous support from the Santander Foundation, which will run each weekday afternoon in Futures Homescape community centres in the Amber Valley area. They will offer an interesting range of activities designed to stimulate deep memories, aimed at those with early stages of memory loss and dementia, using exciting new resources to help the reminiscence work.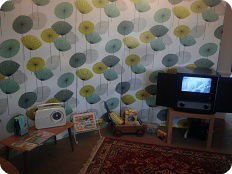 Some of the new resources include two RemPods, which recently were featured on BBC Dragon's Den, which create a portable reminiscence room including furniture and objects from different eras which may awaken more memories and stimulate conversation.
The 1950's living room RemPod comes complete with a vintage television and classic programmes to help recall memories of family and first homes. The cinema screen RemPod will allow 'Memory Lane' to offer film afternoons that really evoke the fun of trips to the cinema.
How much will it cost?
Each session will have a small charge to include a full range of structured activities, refreshments and support in a sociable group.
Where and when do the groups meet?
At various times and venues around Amber Valley and Erewash.
If you would like to attend one of the sessions or for more information, please call Di Cliff on 01773 768240.
How do I find out more?
If you feel you or someone you know would enjoy a Memory Lane group please call Di Cliff at Age UK Derby and Derbyshire on 01773 768240 for details of venues and dates/times. And of course if you have objects that would help reminiscence activities or could offer some time as a volunteer we would love to hear from you!
Safeguarding adults
If you have any concerns about whether an older person, or yourself, is being abused or neglected, please see our safeguarding adults page for help. We are committed to preventing the abuse and neglect of vulnerable adults.
Other information you may find helpful
Related pages on our website
Related pages on other websites