Out and about minibus service
Out and About Mini-bus Service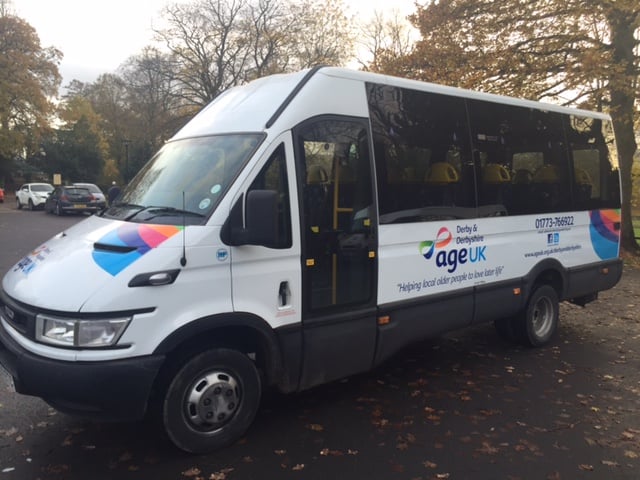 The 'Out and About Bus Service' is a new service delivering a high-quality, charged transport service for people aged 50+ which includes regular trips, occasional visits and excursion trips.

The Out and About bus service is mainly based around the Derbyshire Dales. It will be supporting the local economy in smaller towns and villages as well helping to sustain much-needed shops, services and businesses for local residents. It also encourages local tourism by offering trips to places of interest in the area.

Passengers do pay to use the service which enables the bus service to become sustainable and cover costs rather than having to rely on external funding. But by using central administration, volunteer support and the charity's governance we can keep charges as low as possible.

There has been so much in the media over the last 18 months all about lots of older people feeling lonely and isolated. This service will be another one of the services that Age UK Derby and Derbyshire offer that aims to reduce those levels of social isolation amongst local older people.
Support
Age UK Derby and Derbyshire would like to thank the Whitworth Centre in Darley Dale for becoming special supporters and agreeeing to let their car park to be used as a base for the minibuses.
Find out more
The Out and About Bus Service will deliver day or part-day excursions subject to availability, to places of interest and will be available for private hire in the evenings or during off-peak periods. If you want to find out more about the service or want to know when/how you can use it, whether for regular or occasional trips, please contact:

Tel: 01773 766922
Email: outandabout@ageukdd.org.uk
Safeguarding adults
If you have any concerns about whether an older person, or yourself, is being abused or neglected, please see our safeguarding adults page for help. We are committed to preventing the abuse and neglect of vulnerable adults.
Other information you may find helpful
Related pages on our website
Related pages on other websites