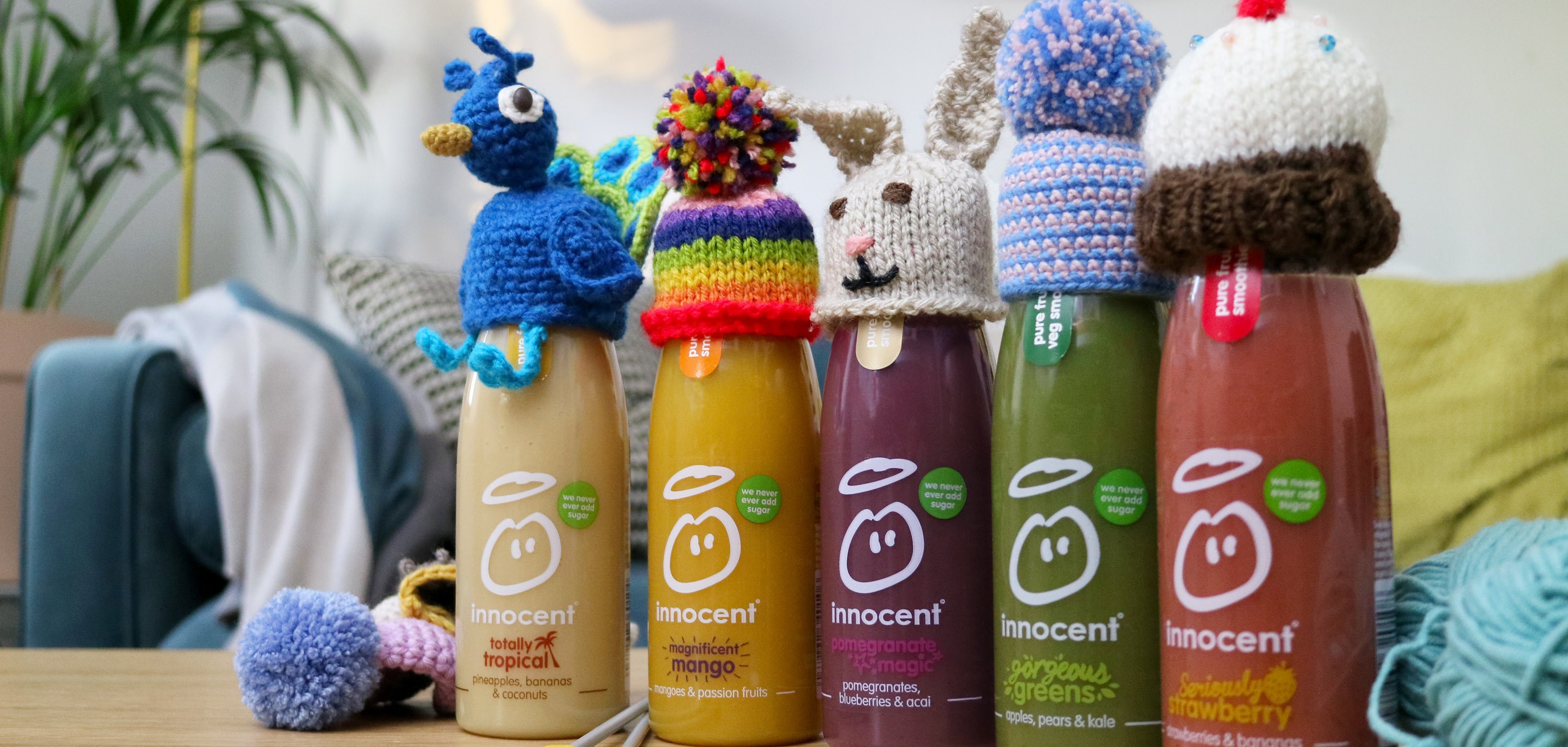 We need big knitters!
The Big Knit, run by Age UK in partnership with Innocent Drinks, encourages the creation of little knitted hats, which adorn smoothie bottles. Each little hat raises 25p and Age UK Devon's previous campaign raised £5192.50 to support older people in Devon through the cold winter months.
This year, we are asking all knitters and crocheters across Devon to help us again by dusting off your needles or hooks to meet our target of creating 20,000 hats. All monies raised from the Big Knit will help provide practical and emotional support to older people across Devon.
How to get involved?
Getting involved is very simple! Knit or crochet as many Big Knit hats as possible and send them to us by 30 June 2022.
Knitters of all ages can get involved and there are lots of interesting knitting and crochet patterns for all abilities available. So you can be as creative as you want to be. Every delivery of Big Knit hats to our office is exciting and we are always amazed by the talent of the knitters and crocheters of Devon.
Big Knit Patterns
Various patterns including the Unicorn, Dinosaur and Lion
New 2021 Patterns
If you are looking for inspiration why not take a look at the patterns available on Innocents Big Knit or Jo's Big Knit websites.
Where to send your hats?
When your little hats are ready, please send them to us at:
Age UK Devon, 1 Manaton Court, Matford Business Park, Exeter, EX2 8PF.
If you would like to hand deliver your hats to our office, please call to arrange to ensure someone is available to meet you.
When sending your hats, please include your contact details as we would love to be able to send you a personal thank you for all your hard work.
We will gather all the tiny hats we receive together, safely looking after them until we are ready to send them to Innocent Drinks. They will then be placed on smoothie bottles at the beginning of 2022.
Keep an eye on our facebook and Twitter pages as we love to share photos of our favourite hats.