Here are the activities available in North Devon. Please click on the title to view more information.
Tea and IT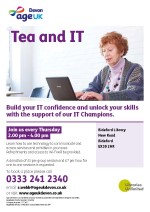 Learn how to use technology to communicate and access services in your area. Refreshments and access to WI-FI will be provided.
Every Thursday at 2.00 pm - 4.00 pm
Bideford Library, New Road, Bideford, EX39 2HR
A donation of £3 per group session and £7 per hour for one to one sessions is requested.
For more information please contact Trish Warren on 0333 241 2340 or p.warren@ageukdevon.co.uk
Click here to see larger poster
Disclaimer
Whilst this event's activities are aligned with, or contribute to, the charity's mission, it is not regulated by Age UK Devon and we cannot accept responsibility for any actions taken by its members.
Seated Vitality
Gentle basic seated exercises to help improve mobility, muscle strength, suppleness and posture.
Every Wednesday for 4 weeks starting on 8 January 2020 at 11.30am - 12.30pm
Barnstaple Social Club, St Georges Road, Barnstaple, EX32 7AU
Each session costs £5.