The Otago program is designed to help reduce the risk a fall which could lead to an injury in later life. Many people think there is nothing the can do about getting less mobile in older age but regular gentle exercise can make a big difference.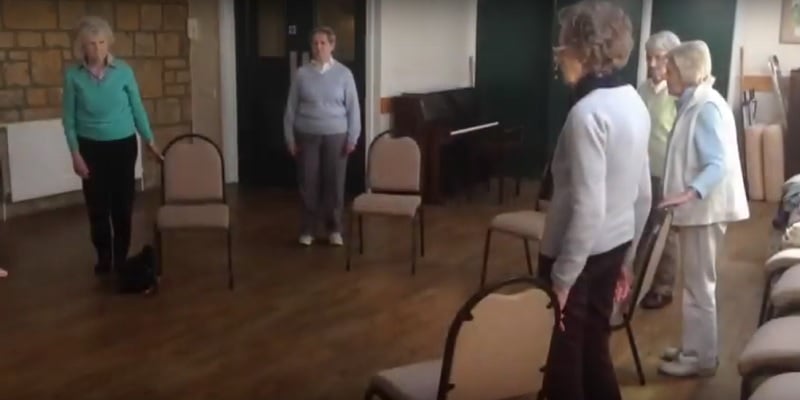 All About Falls
Are you concerned about falling, or have you fallen recently? Falls are such common events for older people, often with such severe consequences, but it's easy to think that it won't happen to you, or to assume there's nothing you can do about it. But around 30% of adults over 65 living at home will experience one fall a year (around 2.5 million people in England) - rising to 50% of adults over 80 living in their home or residential care.
The Otago Programme
The Otago programme has been clinically trialled at OTAGO University Medical School, New Zealand and has demonstrated that the likelihood of falls can be reduced by up to 46%; and of those that do fall, the likelihood of injuries can be reduced by a third.
The exercises are low-impact, and suitable for all abilities and ages. Most people will notice a rapid improvement in their confidence, balance and stability, especially if they practice at home.
Otago at Age UK
Dorchester classes:
Tuesday 10am to 11am, 11.30 to 12.30 and 1.30pm to 2.30pm
Thursday 10am to 11am, 11.30 to 12.30pm, and 1pm to 2pm
Age UK Dorchester
Rowan Cottage
4 Prince of Wales Road
Dorchester DT1 1PW
Weymouth class:
Friday 9.30am to 10.30am & 11.30am to 12.30pm
Weymouth Community Fire Station
Radipole Lane
Weymouth DT4 0QF
Call us on 01305 269444 for more details or to book your place. Classes cost £6.50 per session.
Other information you may find helpful
Related pages on our website
Related pages on other websites