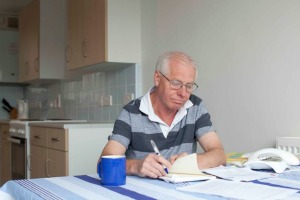 Our Benefits Advisor can offer advice and support to apply for a range of benefits
Each year up to £3.7bn of benefits go unclaimed by older people. It can be tricky to know what you are entitled to as the eligibilty for each benefit can vary. For example some benefits, like the Winter Fuel Payment, are entirely dependent on age - and not at all related to income. Other benefits, like Pension Credit, are income-related benefits.
Our Benefits Advisor is available for pre-booked appointments on Tuesdays to provide advice and support to apply for a range of benefits, including pension credit, attendance allowance, personal independence payment, etc. To make an appointment with our Advisor, please contact us using the contact details below.
Age UK Benefits Calculator
Even if you think you're getting everything you are entitled to, it doesn't hurt to check.You could discover you may be eligible for Housing Benefit or Council Tax Support.

You can find out exactly what you are owed - quickly and easily - with the Age UK personalised benefits calculator.
This online tool can help identify what benefits you may be entitled to in one simple step. Simply answer the questions about your personal circumstances and email the results to yourself.
How to claim
Once you have completed the Benefits Calculator, our expert Benefits Advisor can give you one-to-one advice on your entitlement and how to make a claim.
What to claim
Below Pension Age
Job Seekers Allowance
Employment Support Allowance
Income Support
Personal Independence Payments
Carers Allowance
Bereavement Allowance
Above Pension Age
Pension Credit
Pension Savings Credit
Attendance Allowance
Information and Advice Service Contact Details
Telephone 01905 772 126
Email info@ageukds.org.uk
Location (for opening times see Information and Advice)
Age UK Droitwich Spa Information and Advice Service
Olive Branch Community Centre
Winnetts Lane
Ombersley Street East
Droitwich Spa
WR9 8BZ
Correspondence Address (Not open to the public)
Age UK Droitwich Spa
Severn House
32 Ombersley Street West
Droitwich Spa
WR9 8QZ